Without a doubt, the Academy Awards is one of the most glamorous events in history. It has been a good platform that recognizes the achievements of some of the biggest stars since its inception. Aside from being a source of debate and discussion, it also became the origin of history-making events. While some years are more unforgettable than others, we like to focus on the highlights that bring us joy.
The best Oscar looks of all time aren't always the safest bets—they're daring, bold, and sometimes, deemed "the worst" clothing pieces to a degree. But these are what make the dresses famous. The awards show is always full of jaw-dropping ensembles, risqué choices, and over-the-top styles, regardless of the decade or trends at the moment. Who could forget Audrey Hepburn's beautiful Givenchy piece, for example? Or when Lupita Nyong'o channeled her inner Disney princess in a powder blue Prada gown? Let us go on a fashion journey through the last 93 years of the Academy Awards and its top outfits of all time.
2008: Marion Cotillard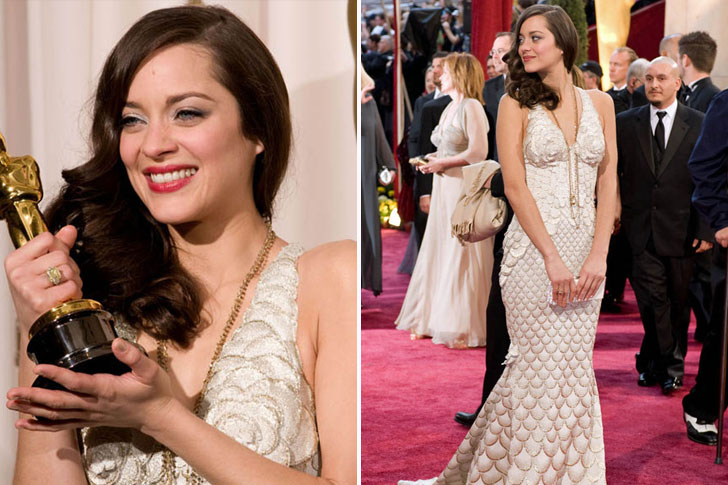 French star Marion Cotillard is the embodiment of femme fatale. She has been widely regarded as one of France's most famous actresses. Many people got to know her for the first time when she graced the red carpet during the 2008 Oscars ceremony. During that time, Cotillard wore a form-fitting fishtail white dress designed by Jean Paul Gaultier. The gown became noted for its intricate scallop detail. To top it off, she wore a golden necklace as an accessory.
Her presence during that time drew a lot of eyes. This is added to the fact that she won that year's Oscar for Best Actress for her portrayal of Edith Pilaf in La Vie en Rose. Both her win and her red carpet appearance led to Cotillard's rise in fame. It seemed her investment in the dress paid off very well.
1997: Salma Hayek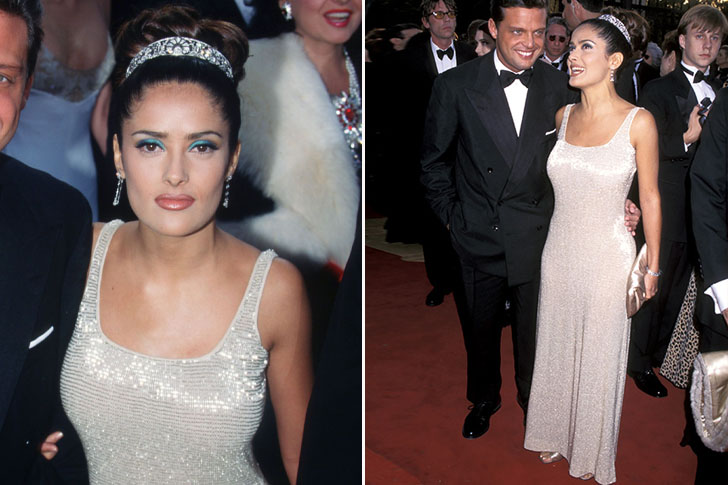 While many recognize Salma Hayek as one of the most beautiful personalities in Hollywood, this was not the case during the 1990s. Yet, she was on her way to great stardom during that time. The numerous times she had participated in red carpet events added to her flair, mystique, and charm. Perhaps her most notable appearance was when she was tasked to become a presenter during the 1997 Oscars. For it, she wore a glistening white dress designed by fashion icon Giorgio Armani and a sparkling tiara.
In addition to adhering to the occasion's formal dress code, Hayek's dress became one of the most memorable attires to have ever graced the Academy Awards red carpet and is given credit for further expanding her ever-increasing public profile. While she has since worn equally elegant and memorable ensembles, her white dress back then certainly wowed everyone in attendance.
2001: Julia Roberts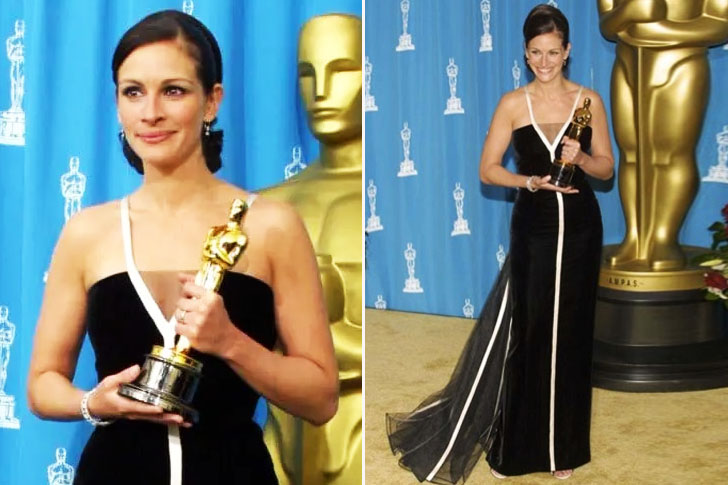 Back in 2001, Julia Roberts was already a superstar. Her most notable roles up to that point include Pretty Woman, Runaway Bride, and Erin Brockovich. The lattermost, in particular, led to her winning an Oscar for Best Actress in 2001. To accept the award, she went to that year's Academy Awards ceremony in the now-iconic black and white dress designed by fashion legend Valentino. The dress was floor-length with a black body. A single white stripe ran down the dress's front, which then split into a Y-shape pattern and fanned out on the back.
Roberts' gown at the occasion drew widespread praise and acclaim from critics and fans. Valentino himself credits the dress as the high point of his long career in fashion. As for the screen star, her stellar appearance on the carpet solidified her status as one of Hollywood's best actresses.
2006: Jessica Alba
Whenever Jessica Alba hits the red carpet with any designer dress, she instantly wows the crowd and adds further to her status as a beauty icon. That is certainly true when she attended the 2006 Oscars. At the time, she was tasked to present the award for Best Sound Mixing. For the occasion, Alba wore a slinky gold halter gown with white lace detailed across it. The attire was made by the fashion brand Versace. She completed her fashion ensemble with champagne teardrop earrings and a sleek updo.
Like so many of her attires, her dress certainly was widely praised and had grabbed many people's attention. The hues certainly fit well with the colors of the Oscars. In addition, the fashion number showcased Alba's flawless and smooth-looking skin and glowing appearance to a degree.
2004: Charlize Theron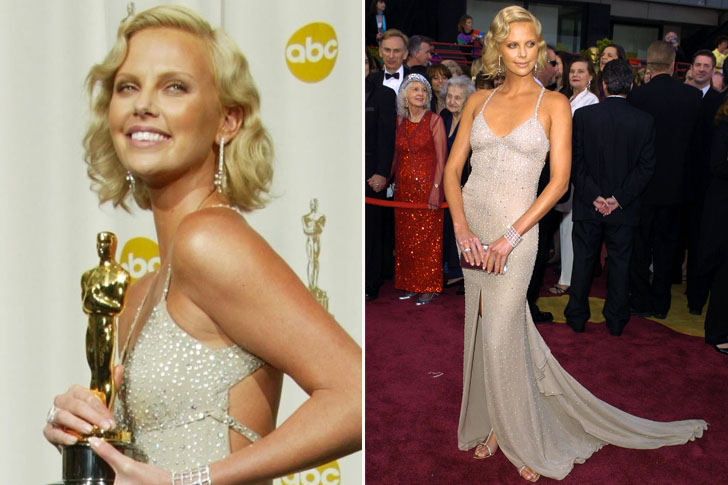 Actress Charlize Theron really knows how to look elegant on the red carpet. One of her best was featured during the 2004 Oscars. At the time, she was nominated for Best Actress for her portrayal of Aileen Wuornos in Monster. During the occasion, she wore a silver floor-length gown made by Tom Ford for the luxury brand Gucci. The dress has a slit at the front and has glittering stones from top to bottom. She paired the attire with complimentary silver sandals and earrings.
Her outfit considerably enhanced her beauty and physique and gave her a golden vibe. She quickly became widely talked about even before the ceremony started. The fact that she won that year's Oscar for Best Actress made the dress even more magical for her. It seemed that the designer made a great investment to make her fabulous.
2020: Natalie Portman
There is no denying that Natalie Portman is one of the most beloved and beautiful actresses in Hollywood. This was further exemplified when she turned up at the Oscars in 2020 in a dress that immediately became the talk of the town. The gown was an elegant black and gold piece designed by the fashion brand Dior for its Spring 2020 Haute collection. The dress was intricately created, with each detail painstakingly made by hand. For most people, a few credit cards may not be sufficient enough to buy it. To add more flair, Portman wore a custom-made cape.
While the outfit certainly looked gorgeous on her, her wrap made headlines because of the message embroidered on it. Portman had the cape designed with the first names of notable female directors of 2020 stitched in bright gold thread. Overall, Portman became one of the most talked-about personalities during that time.
2017: Viola Davis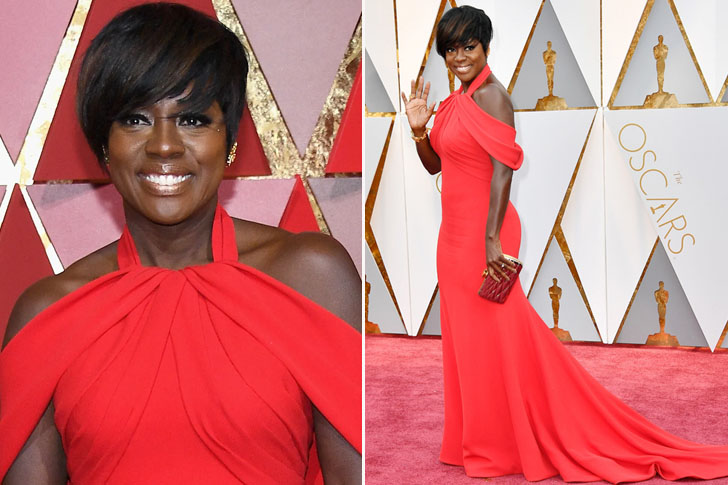 Viola Davis sure shined greatly back in 2017 when she attended that year's Oscars. At the time, she was nominated for a Best Supporting Actress award for her role in Fences, which she won. For the occasion, she wore a custom-made scarlet red Armani gown. The off-the-shoulder, floor-length design of the dress made her stand out among the people who attended the ceremony. While they leaned toward much darker and romantic hues, Davis opted for a much brighter look.
To complement her attire, Davis had a discreet bracelet and a metallic clutch as her simple accessories. In addition, her sleek pixie cut gave her a refined aura. Overall, she made a good investment in her look to become the star of the occasion.
2019: Billy Porter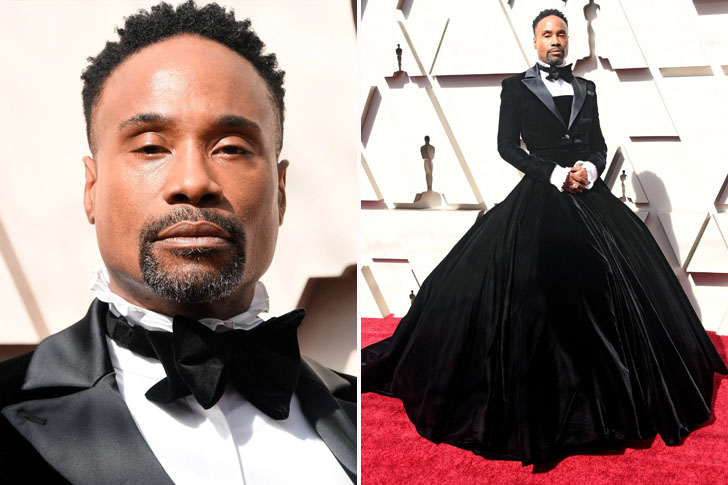 While many iconic dresses stood out due to their elegance and near-angelic design, one number that was worn by Billy Porter stood out for a completely different reason. The actor is already well known for his unique fashion choices. Perhaps one of his most popular attires was the one he wore to the Oscars back in 2019. When he went to the occasion, he caused a lot of eyebrows to rise with his velvet gown and fitted tuxedo jacket designed by Christian Soriano. He also wore six-inch boots designed by Rick Owens.
Like many of his ensembles before, this one certainly grabbed a lot of people's attention. It quickly became regarded as one of the most memorable dresses of that year. In line with his style statement, he stated that he wore the dress because he wanted to challenge people's ideas about masculinity to a certain degree.
2019: Tessa Thompson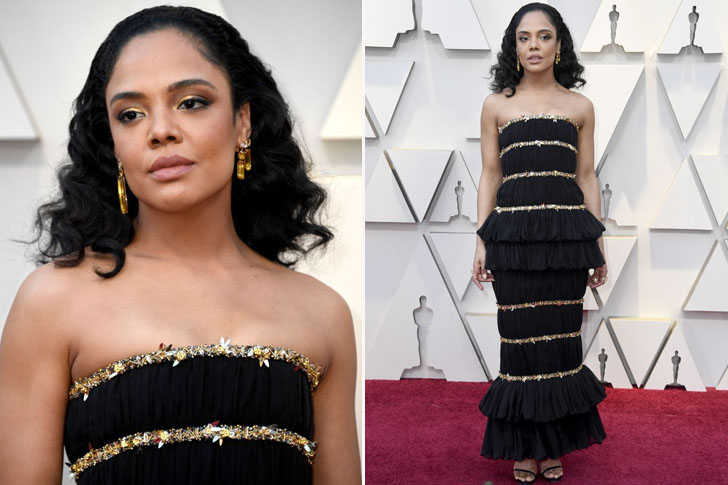 Tessa Thompson certainly amazed many when she made her appearance at the 2019 Oscars red carpet. For the occasion, she wore a black and gold haute couture gown made by the well-known fashion brand Chanel. The fashion piece was originally showcased in Paris early that year as part of the label's Spring/Summer collection. To complement her dress, she wore a pair of L'Esprit du Lion earrings and an 18-karat gold ring with yellow sapphire and diamond.
While Thompson's look made her shine considerably, what made her dress special was the fact that it was in honor of the late fashion legend Karl Lagerfeld, who passed away earlier that year. He had been an influential force in fashion for many decades. He was given credit for the myriad of outfits that graced the Oscar red carpet, including Thompson's stunning number. The tribute was quite a lovely one for the late icon.
2006: Reese Witherspoon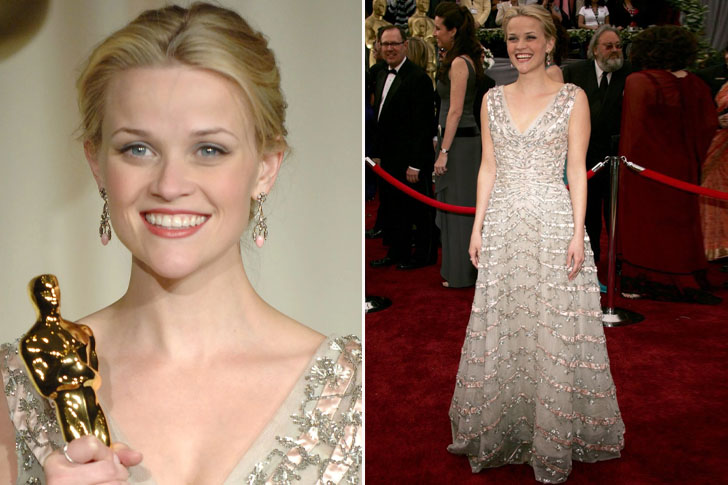 Reese Witherspoon has been a familiar face in many red carpet events over the years. She has showcased her beauty and good fashion taste through her choice of outfits. One that stood out among them was the gown she wore in 2006. At the time, she was nominated for an Oscar for Best Actress for her role in Walk the Line, which she won. To attend the ceremony that year, she wore a silvery beaded number made by Christian Dior. It is a vintage piece that was made back in 1955.
Witherspoon apparently bought the dress due to her fondness for classic clothing. The shiny attire became one of the highlights of that year's Academy Awards. While the frock was stunning, it may not be within the reasonable price range of most people's credit cards.
2011: Cate Blanchett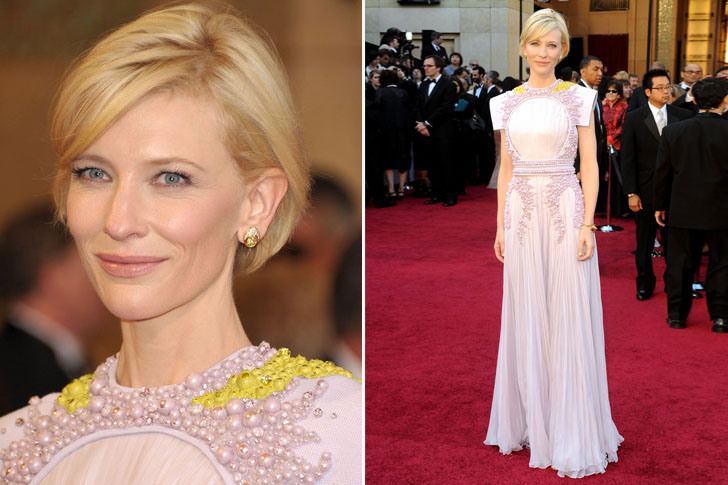 Cate Blanchett is no stranger to elegant red carpet appearances. Her Oscar attendance in 2011 was no exception. For the event, she wore a couture lilac gown designed by fashion brand Givenchy, which was noted for its unique style at both the front and the back. The dress was part of the company's spring collection that year and was highly anticipated by many observers of Oscar fashion.
The avant-garde outfit had a hit-or-miss reaction from many of Blanchett's fans, but she certainly looked gorgeous during that time. There were still those who quickly became enamored with her attire. Some even called it one of the best Oscar attires of that year. This was not the first time a Givenchy number received such praise and credit. In 2010, a purple-hued gown worn by Zoe Saldana was hailed as one of the best dresses of the occasion.
2014: Lupita Nyong'o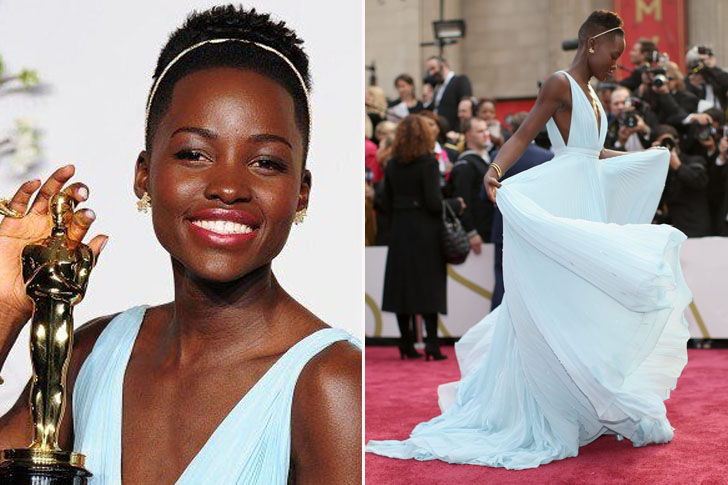 Among the many dresses that graced the red carpet, Lupita Nyong'o's outfit back in 2014 can be said as one of the best out there. She walked in a custom-made, powder blue gown made by Prada. Unlike so many ensembles that can usually be seen at the Oscars, her dress was quite simple-looking with its low-cut style in front and at the back. Upon close inspection, however, crystal details can be found all over the edges of the pleats of the skirt. The details gave off a shimmering look to the fashion piece and may have required an investment to achieve.
Overall, the dress gave off a Disney princess vibe for Nyong'o. While many had found the vibe of her get-up to be quite clichéd, her gown quickly garnered headlines because of how perfectly it looked on her. This was also the year that she won an Oscar for Best Supporting Actress.
1998: Madonna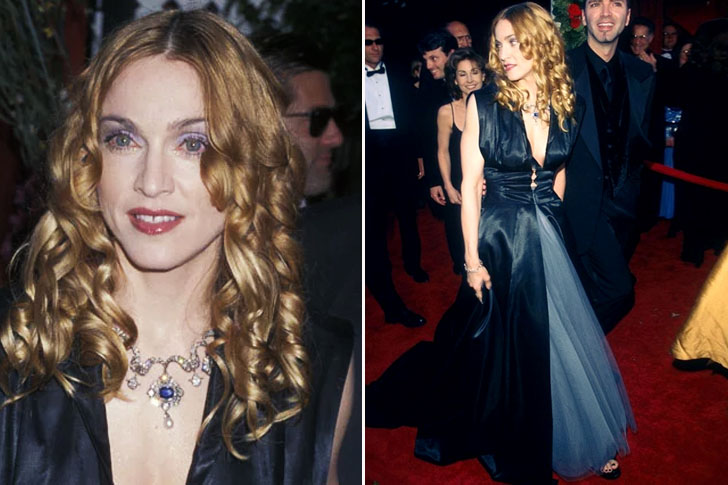 Madonna is a timeless figure and a well-known trendsetter when it comes to fashion. Whatever she wears, people tend to follow. Her style sense was proven true in 1998 when she attended the Oscars with her brother Christopher. During the occasion, she wore a blue gown with an open corset and a splash of baby blue tulle. In addition, she wore a gleaming diamond and sapphire necklace.
Despite often being flamboyant and stylish, Madonna was surprisingly reserved in her choice of outfit at the time. Regardless, she still managed to shine brightly among the many attendees of the awards show. The frock, in addition to the corset, showcased her physique and beauty. Thus, it is not surprising that it is among the best dresses to have ever appeared at the Academy Awards. In addition, the piece's great acclaim can be given credit for launching the career of its designer, Olivier Theyskens.
2019: Gemma Chan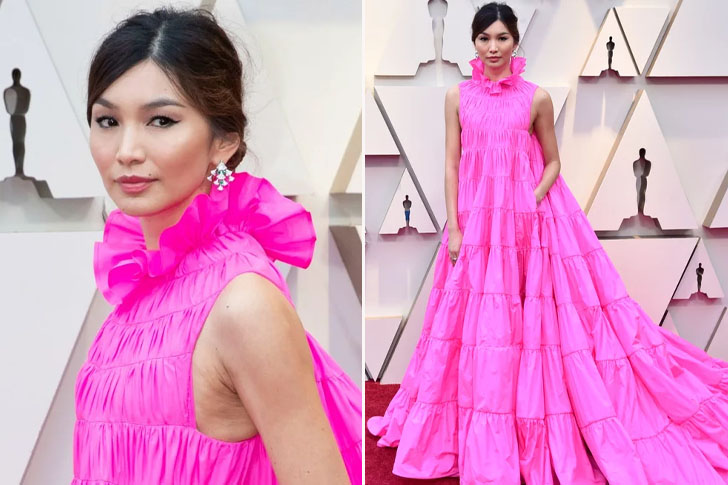 Known for her role in Crazy Rich Asians, Gemma Chan certainly knows how to look chic. When she graced the red carpet at the 2019 Oscars, her dress became the center of attention. Her outfit was a hot pink number made by fashion brand Valentino as part of its Spring Haute Couture that was showcased in January of that year. It was shaped like a parachute at the base and was quite voluminous. In addition, it featured a ruffled high collar, which gave off a vibe of royalty to a degree.
The gown wowed many when it first appeared. It really stood out, thanks to its vibrant color, which contrasted with the neutral shades most commonly seen among Oscar attires. When Chan wore it, she certainly became the star of the occasion that day.
1975: Lauren Hutton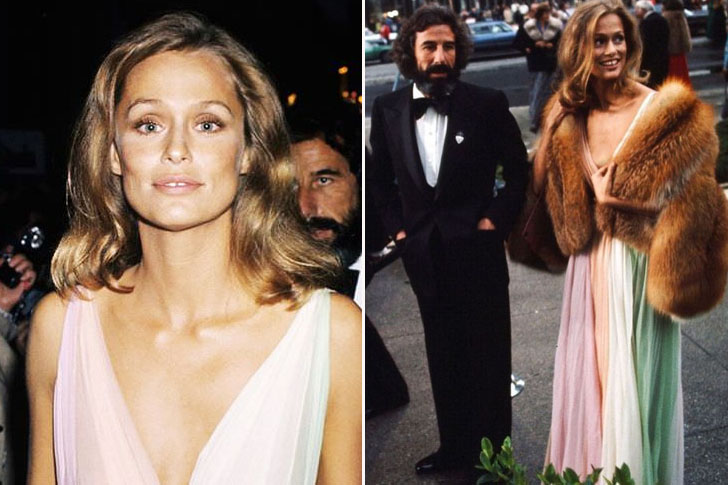 Lauren Hutton was the model-to-be during the 1970s. After all, she snagged what was then the biggest contract in fashion history with cosmetics brand Revlon in 1973, which was the most significant investment in her life yet. Many became enchanted by her, especially when she attended the Oscars in 1975. For the occasion, she wore a relatively simple banded dress with a plunging neckline, similar to the attire of a Greek goddess. The number was designed by her close friend Halston. To top it off, she wore a waist-length mink covering.
Her look during the Academy Awards was one of the many reasons people fell in love with her. After all, with the fur outerwear, she really did look like an ethereal being who just came out of her realm.
1997: Winona Ryder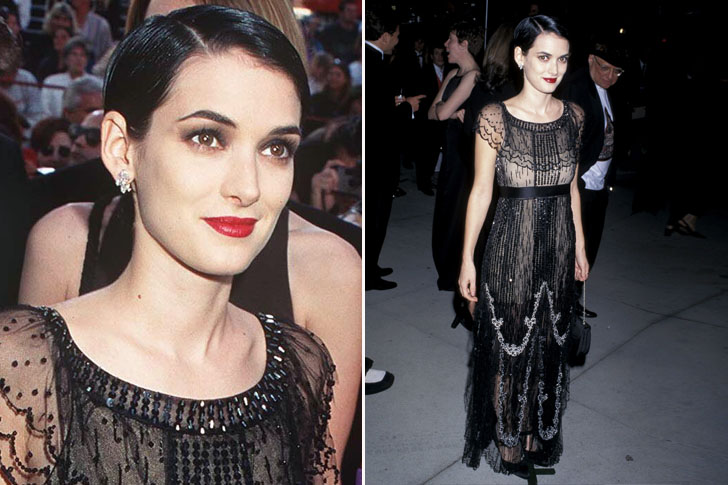 During the 1990s, Winona Ryder was at the top of her game. She saw her most tremendous success up to that point, with films like Mermaids, Edward Scissorhands, and The Crucible. When the actress attended the 1997 Oscars, it was given that she was the center of attention. At the ceremony, she was accompanied by her close friend, Kevin Healy. On the occasion, she wore a black vintage beaded dress, which was complemented with her bag of the same color. Her attire was designed by the French fashion brand Chanel, which can cost you extra on your credit cards if you were to buy it.
While Ryder's outfit today is celebrated as one of the best dresses of the 1997 Oscars, it actually received less than stellar reviews at the time. Many said that the outfit made her look like a flapper. These reviews eventually were eclipsed with more positive ones in later years.
2013: Jennifer Lawrence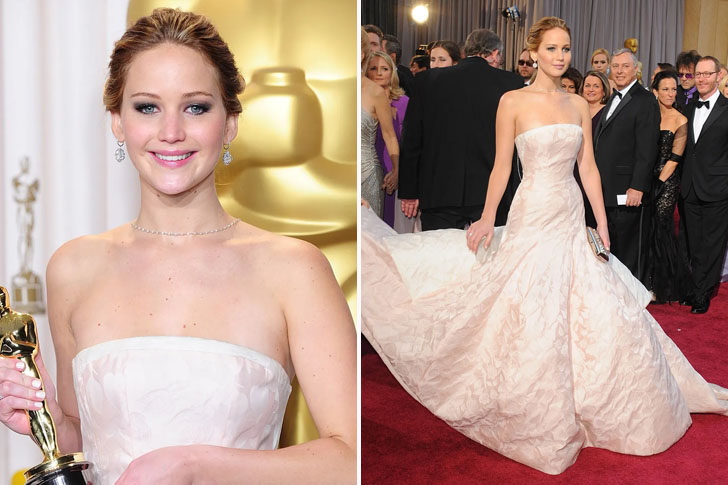 Back in 2013, rising star Jennifer Lawrence became the centerpiece of the Oscars ceremony. After all, not only she won that year's Best Actress award for her performance in Silver Linings Playbook, but the actress also made headlines at the time for her tripping accident after the ceremony. These two instances cemented Lawrence in the history of the Oscars. Yet, no one could ignore her dress which was one of her best, if not the best, outfits worn whenever she attends the Oscars. When she graced the red carpet, she wore a pale pink gown made by Dior as part of its Couture collection.
The gown gave Lawrence a regal look and made her adorable in front of the cameras. She became one of the event's most memorable personalities, even with that accident. To her credit, she managed the tripping accident with her signature offbeat personality and style.
2005: Hilary Swank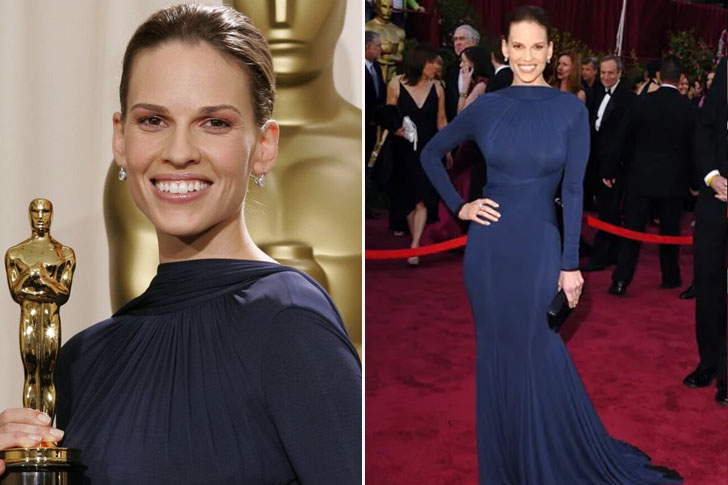 Hilary Swank in 2005 saw her greatest achievement yet when she won an Oscar for her leading role in Million Dollar Baby, directed by Clint Eastwood. While her achievement is certainly front and center, her dress during the occasion is perhaps one of the most well-known and iconic dresses in the history of Oscars. Swank wore a navy blue, a back-baring gown made by Guy Larouche. The gown gave the star a femme fatale look, especially since she had a fit physique, which can be given credit to her training for Million Dollar Baby.
Immediately, the dress was praised by many. It became one of the best dresses, not only during that Oscars ceremony but also in the history of the Oscars. In addition, many had said that the gown is one of the best red carpet gowns of all time. Swank certainly wowed plenty of people back in 2005.
2002: Halle Berry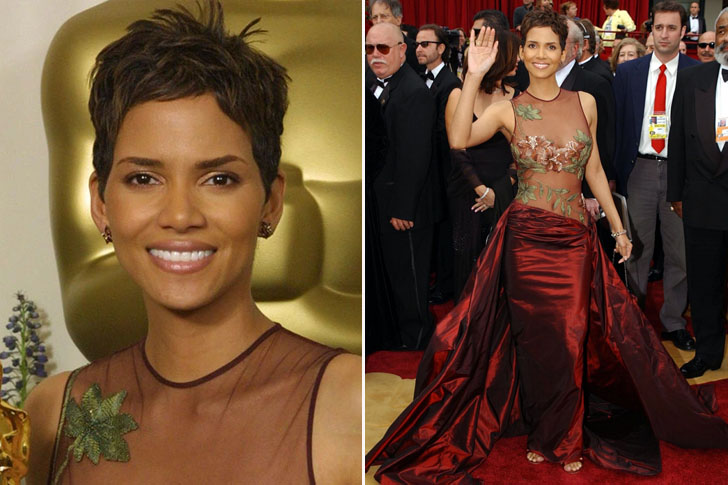 Halle Berry back in 2002 made history in acting. After all, she became the first African American woman to have ever won an Oscar for her stellar performance in Monster's Ball. To this day, she remains the only African American woman to have ever won the award. While her award was certainly the highlight, Berry's iconic dress at the occasion was as equally memorable. During the event, the actress appeared in burgundy and sheered embellished gown. The outfit was designed by well-known Lebanese designer Elie Saab.
The gown made Berry the star of the show and opened even more doors for her. In addition, Saab became famous internationally, with him giving utmost credit to Berry's flawless presentation of his work. The gown has since been regarded as one of the best gowns to have ever graced the Oscars. Berry wore another Saab-designed dress for the Oscars a year later.
2019: Elsie Fisher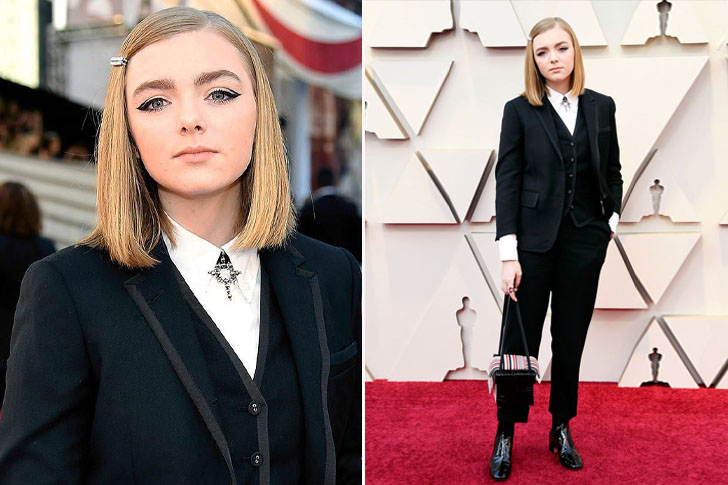 Many have been obsessed with Elsie Fisher for quite some time now. She is famous for her role in Eighth Grade and the Despicable Me series. In addition, her fashion tastes are quite one of a kind. When she attended the 2019 Oscars, she was slated to present one of the awards in the ceremony. The celebrity wore a three-piece suit paired with a white button-down and a silver collar chip for added bling. She then paired her attire further with shiny black heeled shoes and a purse with a striped bow tied around it. Thom Browne, known for their suits, can be given credit for Fisher's attire.
Her attire certainly had a goth look on it. She certainly rocked the outfit and made her quite popular in front of the cameras. Since then, the outfit has been considered to be one of the ceremony's best attires.
2007: Nicole Kidman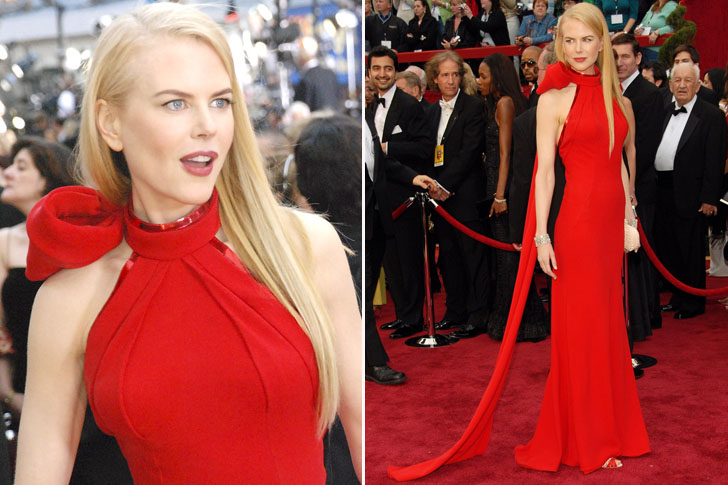 Nicole Kidman is never afraid to go big and glamorous on the red carpet, with many regarding her as a fashion queen. This is more evident when she attended the Academy Awards ceremony back in 2007. For the occasion, she wore a bright-red gown with a dramatic halter neckline and an oversized bow at the nape of her neck. The actress' dress was designed by the Italian fashion house Balenciaga. Her accessories included two bracelets on each of her arms and a glittering purse, which added a degree of pizazz.
Kidman's attire really stole the show. The dress really captured her physique and made her natural beauty stand out. The dress is now regarded as one of the best Oscar dresses in recent years. Since then, Kidman has one-upped her fashion game, with a myriad of dresses worn by her on countless red carpets over the years.
2001: Björk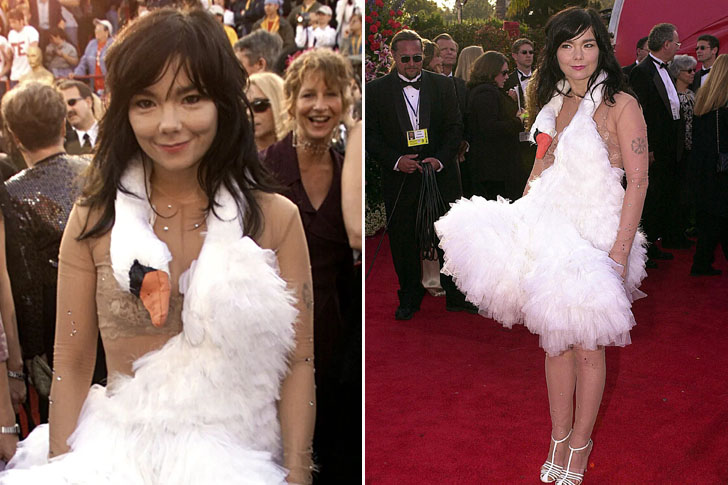 There is no dispute that Björk knows how to be unconventional very easily. This is noted with her appearance at the 2001 Oscars. At the time, her song I've Seen It All, sung with Radiohead's Thom Yorke, was nominated for Best Original Song. She went to the ceremony dressed in attire that resembled a swan. The 'swan' was a body stocking that was encrusted in crystals and surrounded by a puff of white tulle. The swan's neck draped around her neck. The dress was designed by Marjan Pejoski. To add to the absurdity, Björk had egg accessories to mimic the swan laying eggs.
When she made her appearance with the attire, many ridiculed her for the lengths and investments she made to make her attire possible. Today, the dress has emerged as one of the Oscars' most iconic dresses, with many fashion designers taking inspiration from Björk's attire.
2006: Michelle Williams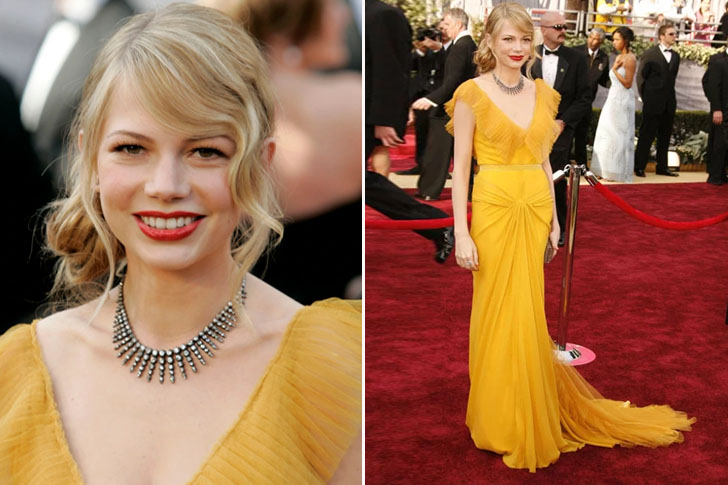 Back in 2006, Michelle Williams was about to transition from being a teen star thanks to her role in Dawson's Creek to being a well-known Hollywood talent. At the time, she was nominated for an Oscar for Best Supporting Actress for her role in Brokeback Mountain. She eventually won the award, equally defining in her career was her famous red carpet photo-op at the time. The celebrity wore a canary yellow gown made by iconic designer Vera Wang. In addition, she wore red lipstick and had a loose, low bun.
Immediately, Williams' looks were praised by many. Some even began to call her a fashion icon. While the style was quite daring, it looked perfect thanks to the perfect blending of the colors which made her shine among the rest. In addition, the dress was praised by many for its sleek and beautiful design. It seems that Williams made an investment and boy, it was worth it.
2004: Angelina Jolie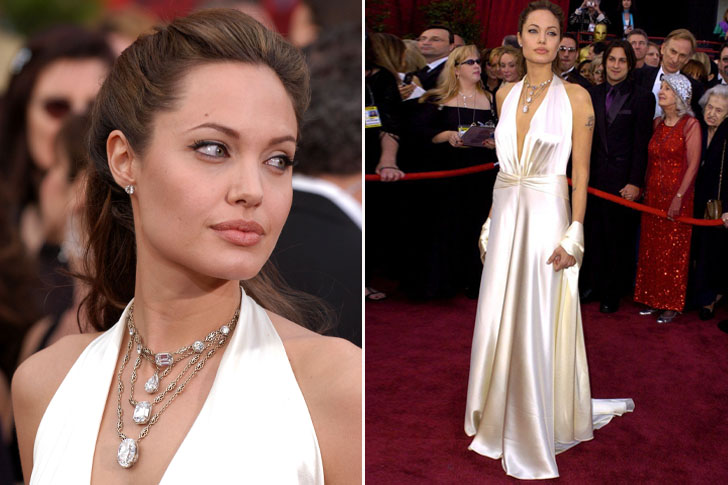 Angelina Jolie has been well-known around the world as a fashion icon and a sex symbol. This was especially made clear back when she attended the 2004 Oscars ceremony. On the red carpet, she astounded many in the vicinity with her subdued yet sultry halter dress. The dress featured a draped front, a trailing back-tie, and a plunging neckline which revealed the actress's chest. The gown was made of silk and designed by Marc Bouwer. To pair up her attire, she wore a diamond necklace and earrings.
The gown became the showstopper of the 2004 Oscars. Jolie channeled the essence of Marilyn Monroe and looked like a Greek goddess in front of the cameras. Upon seeing the outfit, many began to say that it was the best among all of the Oscar dresses seen over the years. Overall, Jolie certainly made a good investment in her looks.
2018: Zendaya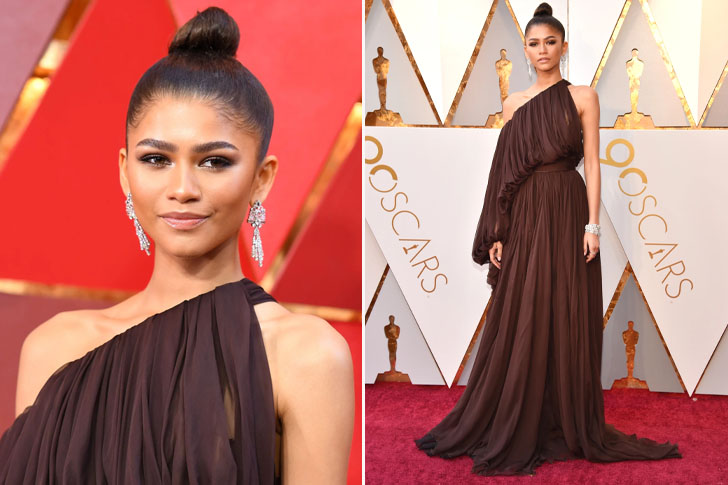 Zendaya is one of the most promising stars of her generation. Known for her role in Euphoria and as MJ in the Spider-Man series, she has become a well-known figure for teens and young adults. In addition, she exuded natural beauty, which was noted back in 2018 when she attended that year's Oscars. For the occasion, the icon wore a chiffon goddess gown made by Giambattista Valli. It was colored dark chocolate brown and was accented with diamond jewels and sandals by Brian Atwood.
The dress really made Zendaya look like a goddess among men. While she was there for presenting one of the awards and her film being nominated for Best Original Song, her outfit was what made her the talk of the town and propelled her to even greater fame. Her investments certainly made her a red carpet star at the time.
1999: Céline Dion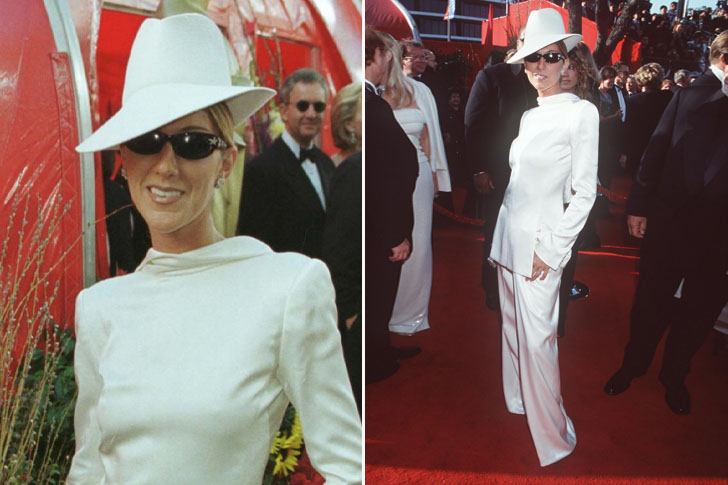 Céline Dion, back in 1999, was one of the most popular singers out there, with her song My Heart Will Go On becoming famous thanks to it being featured in the movie Titanic. When she attended the Oscars that year, she took an unconventional approach to how many dresses at the occasion. Instead of a dress, Dion opted for an all-white tuxedo. Not only that, she wore her tux backward and paired the whole affair with a white hat and black sunglasses. The outfit was designed by John Galliano.
When her outfit made the appearance, it quickly drew strong opinions from many due to how absurd it was. While the singer is no stranger to unconventional fashion tastes, her attire at the time certainly became the most talked-about out of all the dresses and suits that were worn. To her credit, Dion certainly owns her fashion choices.
2020: Janelle Monáe
Janelle Monáe made a statement when she donned a sequined and veiled dress made by Ralph Lauren in her debut at the 2020 Academy Awards. As they say, the 35-year-old star can pull off any look, and she just proved it with this outfit. However, this was not just a simple gown. It was made of 168,000 Swarovski crystals and took more than 600 hours to complete its hand-embroidered work.
By the looks of it, all the investment money and hard work were worth it. The dress had an open back, giving everyone a glimpse of Monáe skin, long sleeves, and floor-length hem. It also had an attached, draped hood that made her look more stunning. Though this hid the rapper's signature hairstyle, she had a sliver of bangs peeking out from under the cowl. Evidently, she got everyone's attention back then, thanks to her show-stopping ensemble.
2012: Gwyneth Paltrow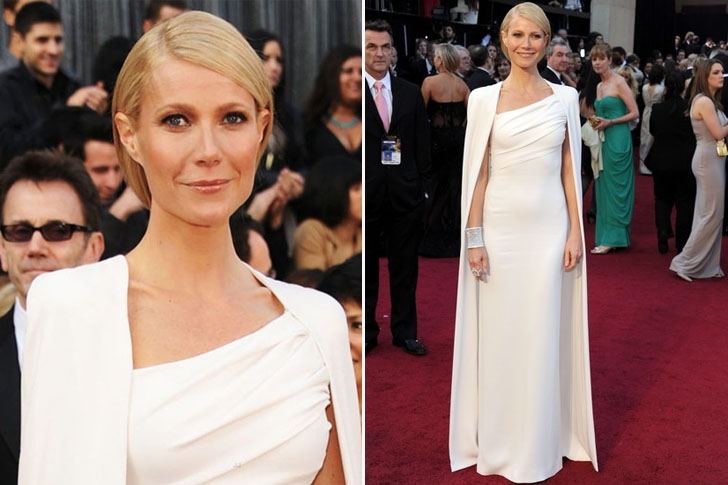 Many chose Gwyneth Paltrow as the best-dressed female celebrity at the 2012 Oscars, thanks to her gorgeous white gown from Tom Ford. The dress was part of the designer's top-secret Fall 2012 collection, and it made the actress look like an angel with its long, pure white cape. According to Red Carpet Fashion Awards, Ford had been waiting for his major Oscar moment ever since he launched his womenswear collection back then, and credits to Paltrow, he got his time to shine.
Thankfully, the Iron Man ditched her then-go-to shimmering Calvin Klein bland column dress and opted for this elegant piece. Paltrow completed her look with a clean ponytail and barely-there makeup that made her look more immaculate. She also paired it with a thick, shining silver bracelet and a ring. With her style, Paltrow just proved less is more with this minimalistic fashion.
1969: Barbra Streisand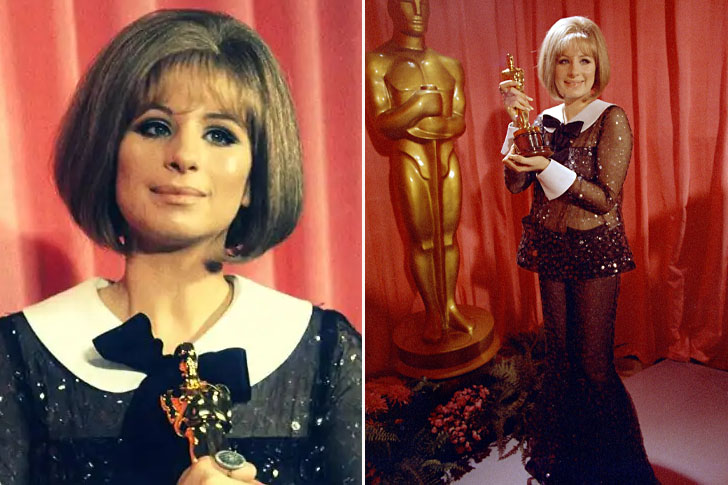 All eyes were on Barbra Streisand at the 1969 Academy Awards after she and Katharine Hepburn tied for the Best Actress award. However, with Hepburn's absence, the legendary singer took center stage, and many were in awe of her beauty and glamour.
At the time, Streisand donned a sequined bell-bottomed jumpsuit by Arnold Scaasi that turned see-through when shined under a degree of light. Scaasi also created her outfits in the 1970 movie On a Clear Day You Can See Forever, and the artist's Oscar outfit was actually from a flick that was never filmed. At the time, the designer revealed Streisand and him finally agreed on the design he had made, and he used a black net, clear-sequined see-through fabric to complete her look for the night.  Scaasi paired it with bell-bottom trousers that had a lot of godets flaring from the knee down.
2016: Alicia Vikander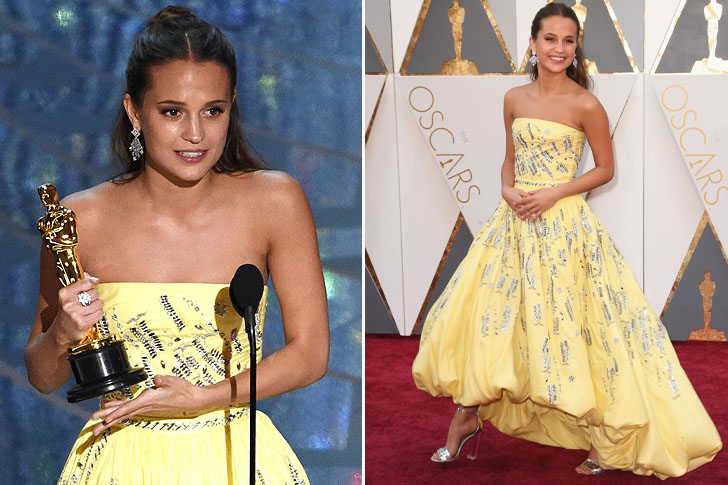 Alicia Vikander looked like Belle from the Disney beauty Beauty and the Beast in her yellow Louis Vuitton gown when she accepted her first Oscar award in 2016. Nicolas Ghesquière made the reimagined number and gave it a whole new look by adding some fun details. The fashion designer made the skirt flow with a slight bubble and added uneven rain of silver sequins falling diagonally down the helm.
Vikander looked very confident in this ensemble, and it could be evidently seen with the degree of her smile. The now-32-year-old star completed her look with minimal accessories—a pair of starburst chandelier earrings that twinkled every time it went under the light. She paired her dress with strappy platform sandals, peeking out from the swells of her skirt. Vikander might look chic, but she was also laid-back cool, proving she could be a modern Disney princess.
2012: Natalie Portman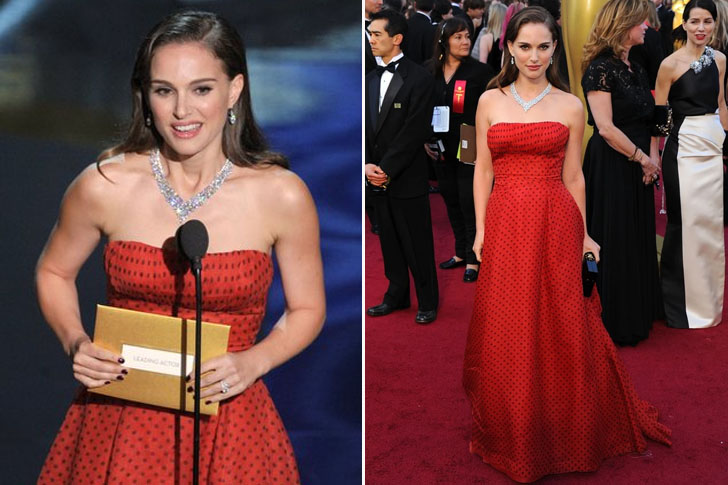 Natalie Portman stunned everyone in her black-and-red polka dot vintage Christian Dior ball gown. The dress was part of the fashion house's 1954 Printemps-été collection, and it looked perfect on the actress' classic beauty. As the face of Christian Dior for years, it was no surprise that she donned this wonderful creation. Although fashion critics were divided on the now-40-year-old actress' style back then, it could never be denied that she looked ethereal.
Someone even liked it too much that an unknown British couture collection in London spent a whopping $50,000 to buy it. It was already huge investment money, mind you. Portman paired the gown with Harry Winston jewels and a wedding ring that surprised many when she presented the Best Actor award to Jean Dujardin. At the time, she was already married to Benjamin Millepied. The couple now has two kids.
1995: Uma Thurman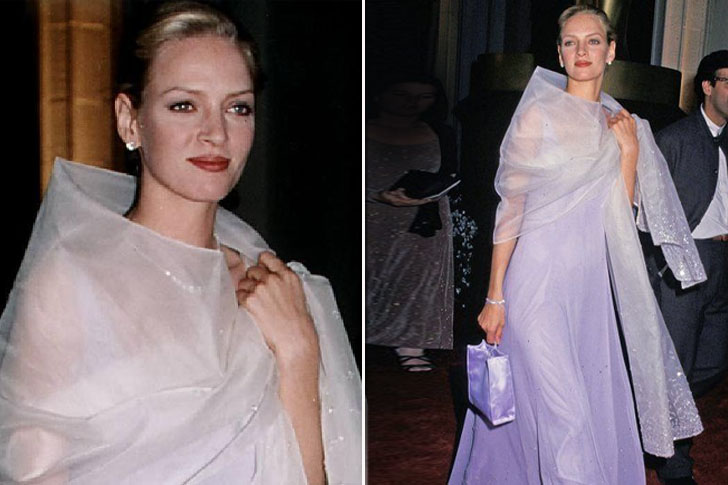 Uma Thurman looked so minimalist in her 1995 Oscars attire by Prada designed by Barbar Tfank. She completed the outfit with a chiffon wrap that made her look like chic. Despite the simplicity of her dress, it was already high fashion at the time.
Prada and Thurman were still yet to be big shots in fashion and the entertainment business, so this event was said to be beneficial for the two. Thurman got credits for her "stellar fashion sense," while Prada got a major boost from being instantly recognized around the world from that moment on. This even made the actress an instant A-lister as she was also nominated for her role in the iconic Quentin Tarantino movie Pulp Fiction. Though her dress became much talk-about instead of her performance, it was a big move for Thurman's career, and it helped change the expectation for actresses when it comes to fashion and acting.
2002: Cameron Diaz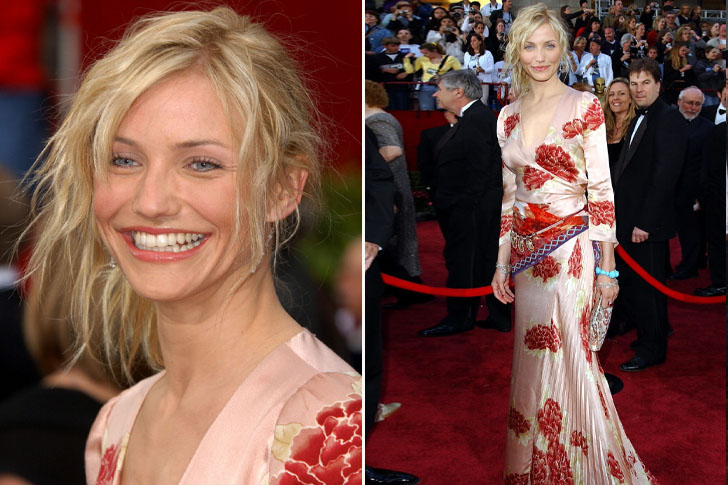 Cameron Diaz changed the tide of the game when she donned a boho dress by Ungaro Couture at the Oscars in 2002. With the style difference, this outfit was even dubbed as one of the greats in fashion history. However, to secure this dress, she made a last-minute shopping trip, thanks to her trusty credit card. She used to buy her red carpet attires from Barney, but this time was different.
At the time, Diaz admitted she had forgotten she was going to the event and did not even have a dress to wear. Thankfully, Gucci Westman called in a favor and found the floral, floor-length gown. The actress then stuck to her casual-chic style and threw her hair up into a messy pony to complete her style. She accessorized herself by wearing a chunky turquoise bracelet, which cost $20. Westman then finished the actress' look with barely-there makeup.
2015: Lupita Nyong'o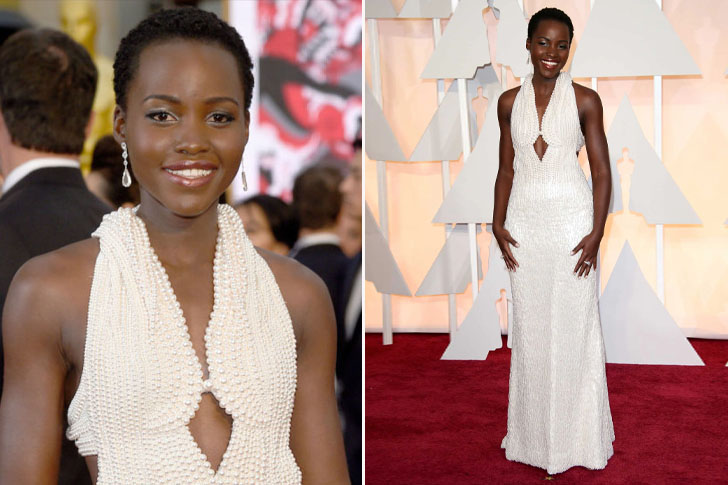 Lupita Nyong'o proved she could win the red carpet even without an award in her Calvin Klein Collection gown, featuring pearl detailing with a halter neck style. You could consider this dress a perfect investment, with its estimated 6,000 pearls that complete the dress. Sure, it looked heavy, but the Kenyan-Mexican star perfectly pulled it off with a sweet smile on her face. Its streamlined shape followed the actress' curve to perfection, emphasizing the shape of her body.
Sadly, the dress was stolen from Nyong'o's hotel room in West Hollywood and found two days after in a bathroom of the London Hotel. Hotel staff found the dress in a bag hidden behind a bathroom counter. Although there were no suspects, the officials were reviewing the surveillance video to find the culprit. A number of small pearls had fallen off the dress, but it was still, thankfully, intact.
1991: Cindy Crawford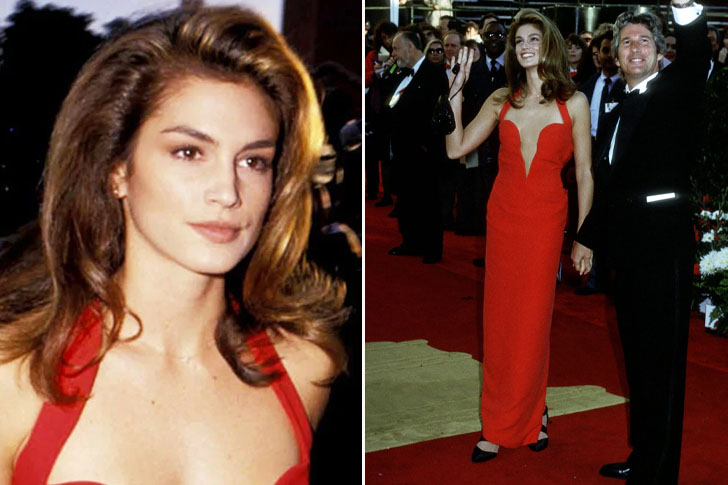 You're not alone if Cindy Crawford's Met Gala costume from 2018 gave you déjà vu! Many people observed that the model's red Met Gala gown was similar to her 1991 Versace outfit.
Crawford looked stunning in a floor-length red gown with a plunging neckline and halter straps. As we noticed, she wore an identical dress 29 years ago at the 1991 Academy Awards when she debuted with then-boyfriend Richard Gere. Crawford and Susan Sarandon presented the Oscar for Best Set Design. Her plunging scarlet gown is one of the most sultry, jaw-dropping red carpet dresses of all time. The gowns are frighteningly similar, yet the 1991 version has a stomach-grazing neckline and a slit down the back instead of the front. Crawford's red Versace gown is one of the few outfits in history to have its own Wikipedia page, so we ought to give credit to the model for making it memorable.
2012: Michelle Williams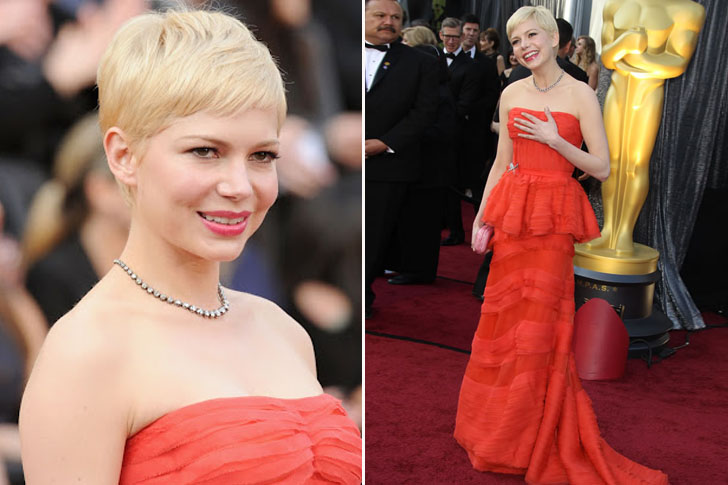 We're confident we're not the only ones who have gotten to the point of rewatching Dawson's Creek. It reminds us of simpler times. However, we're here to discuss a different moment in Michelle Williams' prominent career: the 2012 Academy Awards.
The actress wore a Louis Vuitton gown with a peplum waist. She topped it with a Fred Leighton Forevermark necklace with 30 carats of brilliant-cut diamonds to complement her strapless neckline. The garment, made of silk mousseline and organza ribbons, took over 300 hours to make at the atelier in Paris. The star of My Week With Marilyn had to enlist her pals' help to clarify the color. For the record, Louis Vuitton referred to the color as "burnt orange." To the actress' credit, it wasn't the first time Williams dazzled us with her modest style, but it's still one of the best beauty looks we have ever seen on the Oscars red carpet.
1999: Gwyneth Paltrow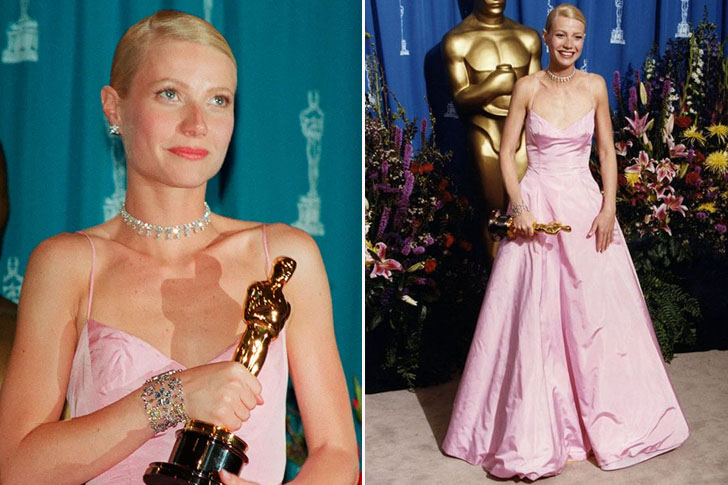 There's no denying that Gwyneth Paltrow's pale pink Ralph Lauren gown that she wore to the 1999 Academy Awards ranks among the finest of all time. It's one of her most talked-about looks, and given that it all dates back to 1999, this is no minor achievement.
Paltrow earned an Academy Award nomination for her performance as Viola De Lesseps in Shakespeare in Love. The actress arrived at the Dorothy Chandler Pavilion dressed in a bubblegum pink taffeta ball gown. The cut has lasted the test of time, symbolizing all that was characteristic of the era. Gwyneth didn't have a stylist at the time and instead went to Lauren a few days before the event to pick out a dress. It came with a corset-like top replaced with the more wearable one we all know and love. Paltrow pulled her blonde locks back into a neat bun on the right side.  She paired it with a pink shawl and a $160,000 worth of Harry Winston diamond choker, bracelet, and earrings. Well, given her fame and investments, this wouldn't come as no surprise.
2008: Heidi Klum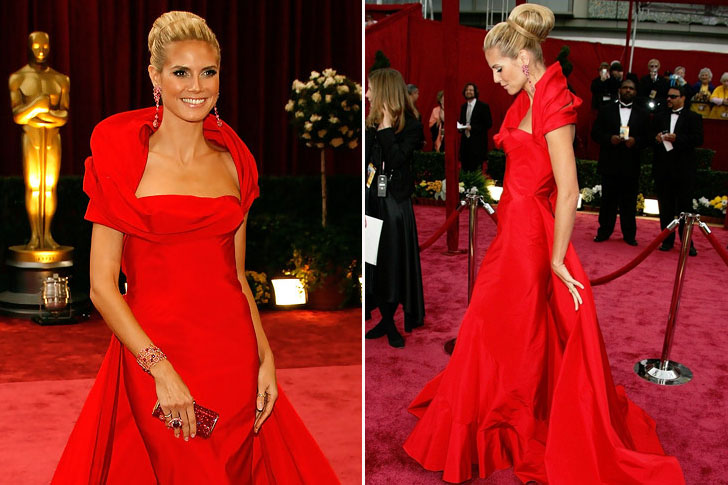 If there is anyone who can make a stunning walk down the red carpet, it would be Heidi Klum. She is not the first German model to become a Victoria's Secret Angel for nothing. After her successful modelling stint, she decided that her next step would be to be a judge at reality TV shows such as Germany's Next Top Model and Project Runway. This way, she could not only show her own style but also influence other aspiring models.
Klum also influences pop culture with her breathtaking red-carpet looks, such as the red dress she wore to the Academy Awards in 2008. It appears that the red carpet became a few degrees hotter when Klum made her entrance wearing a silver sequin sheath. Some say that she has not always had that look she carried on Project Runway and at times, she wears clothes in poor taste, but this one is simply among the best. She absolutely stuns and easily outshines, quite literally, the people in the background.
2007: Helen Mirren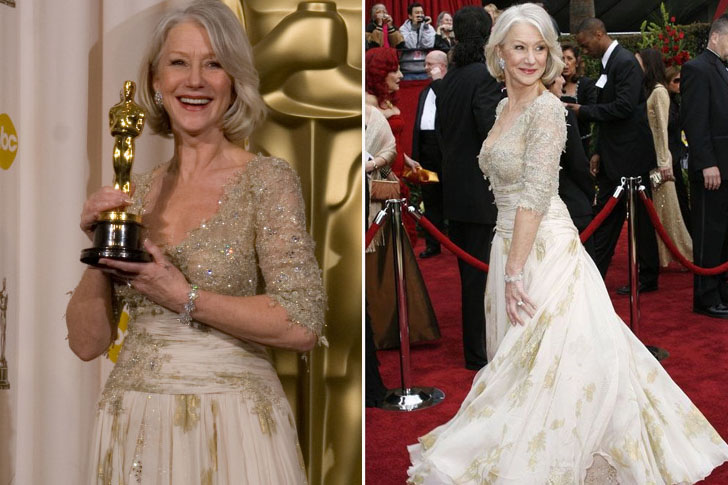 Helen Mirren is no stranger to the red carpet at the Oscars. After all, several of her work has been nominated for the coveted award. Some of these are The Madness of King George, The Last Station, and Gosford Park. She has also won three successive British Academy Television Awards for Best Actress. As a multi-awarded actress, we expect her to dress powerfully when attending the award-giving ceremonies.
In 2017, Mirren did not disappoint when she came in wearing a whitish Christian Lacroix. She was one of the five who were nominated for the Best Actress category that year, along with Penelope Cruz, Judi Dench, Meryl Streep, and Kate Winslet. Guess who won? Mirren, of course. Her win was actually overshadowed by her dress as many admired the gown she was wearing that night. Equally stunning was her humble demeanor during her acceptance speech, where she gave credit to everyone who helped her earn that "gold star".
2012: Octavia Spencer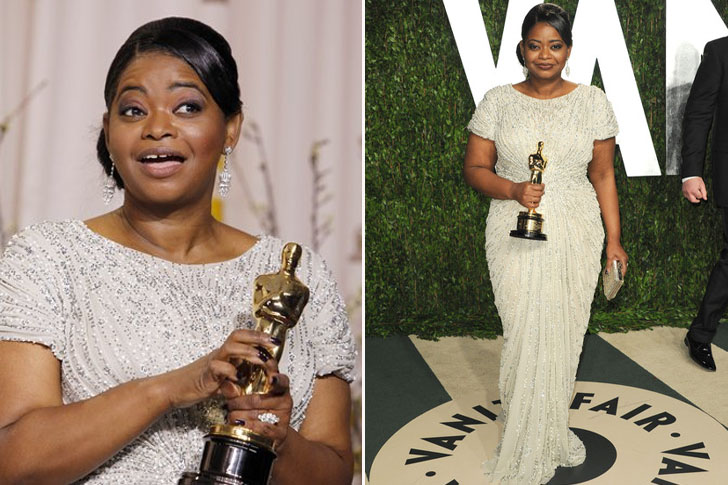 Academy Award winner Octavia Spencer has proven herself to be a very good actress. Imagine, she is the first Black actress to be ever nominated twice in a row for an award and one of two Black women to have three such Oscars nominations. It was the 2011 film The Help that earned her a nomination and a win for Best Supporting Actress. She has since then appeared in a number of successful movies and TV series.
During the 2012 Oscars Awards, she walked down the red carpet with fellow Academy Award winner Viola Davis, who was wearing an emerald green gown. Spencer chose a more subdued but beaded Tadashi Shoji dress. Reports noted that she has been very loyal to this dress designer for years. The gown itself is ivory silk tulle, which only made Spencer stand out. Even though the color is white, which was common during the ceremony, the actress's great degree of confidence in wearing it made it more than extraordinary.
2010: Amanda Seyfried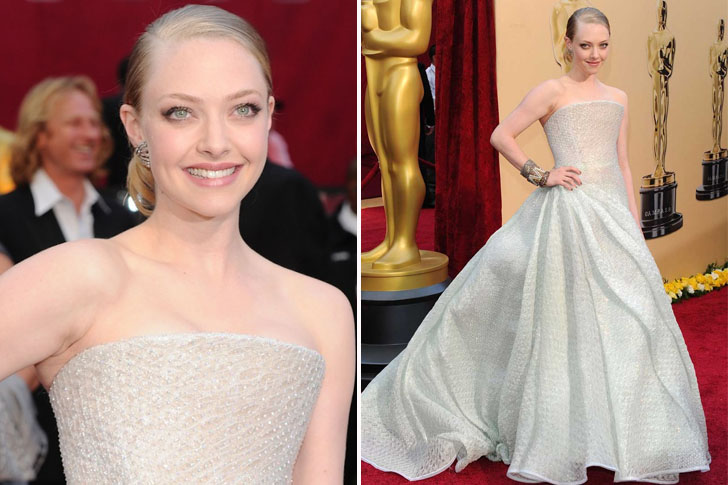 The annual Oscars is more than just an award ceremony. It is also a prestigious excuse to hold a fashion showdown for the celebrities in attendance, and Amanda Seyfried never disappoints.
The actress is known for her impressive acting skills, but Seyfried is one heck of a fashion stunner when it comes to the red carpet. Ever since she broke into the limelight, the actress has been courted by several high-profile designers and fashion houses. We don't blame them, though. If we were a fashion house, we'd clamor to have her wear one of our pieces too! However, in 2010, Seyfried went the classic and sophisticated route when she decided to wear this beautiful silver number from Armani Prive. The dress' simple design and silhouette beautifully complimented the Mamma Mia! star and the prestige of the Academy Awards. We honestly believe this was one of her best fashion investments.
2008: Amy Adams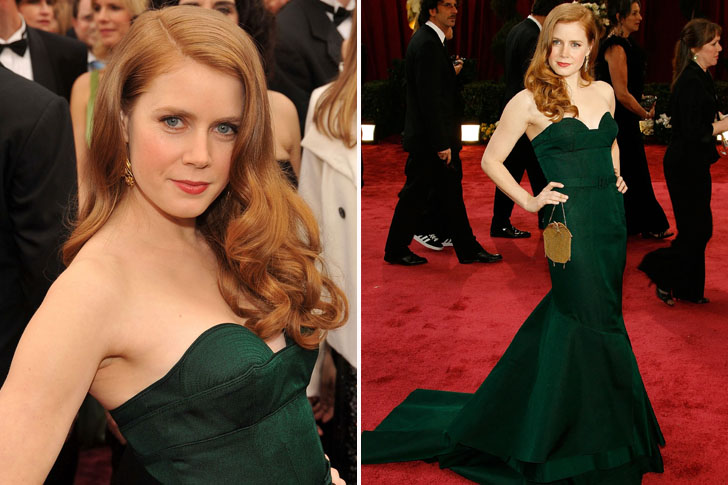 Drama, comedy, action — Amy Adams has done it all! The six-time Academy Award nominee has been a constant figure in the Oscars red carpet, that she has already learned all the ins and outs of red carpet fashion.
Adams has brought us countless iconic looks, but this emerald green Proenza Schouler dress she wore to the 2008 Oscars has got to be our favorite. Not only did the dress hug her body in all the right places, but it also had a timeless look that could fit in any Hollywood era. To top everything off, the actress' team of stylists decided to give her a semi-curly hairstyle reminiscent of old Hollywood actresses. Talk about a classic! If we didn't know this look was from 2008, we could've thought it was from this year. That's how timeless it is. We don't know about you, but we're excited to see Adams' look when the Academy finally gives her the credit her talent deserves!
2012: Angelina Jolie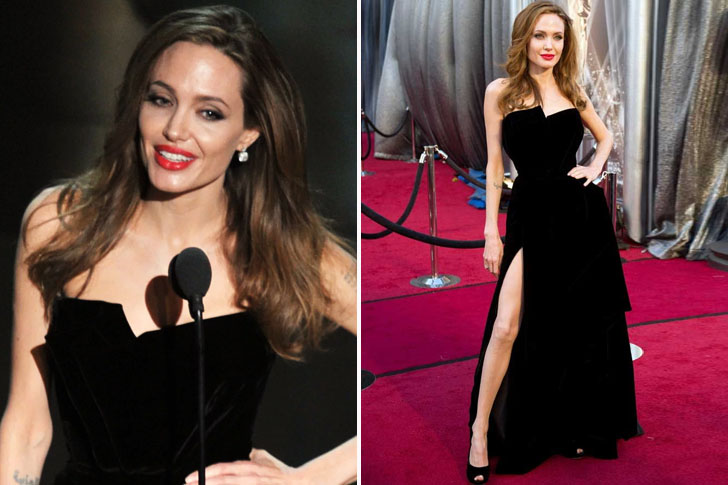 Angelina Jolie has had countless iconic moments throughout her life, but when it comes to the Oscars red carpet, her 2012 look takes the crown!
The Changeling star's dress was so iconic that major fashion magazines still talk about it up until today. The dress in question is this seductive black Atelier Versace number the actress wore when she infamously flashed the paparazzi with her right leg. That moment will forever live in pop culture, and the credit all goes to the gown. Angie revealed she was given two options of what to wear at the time: a more elaborate haute couture gown and that elegantly simple black dress. When asked why she chose the latter, the actress simply said she was more comfortable wearing it than the first choice. Well, thank goodness she opted for the Versace gown! We know Angie would look gorgeous in whatever gown she wears, but the black satin dress was a vision!
2010: Cameron Diaz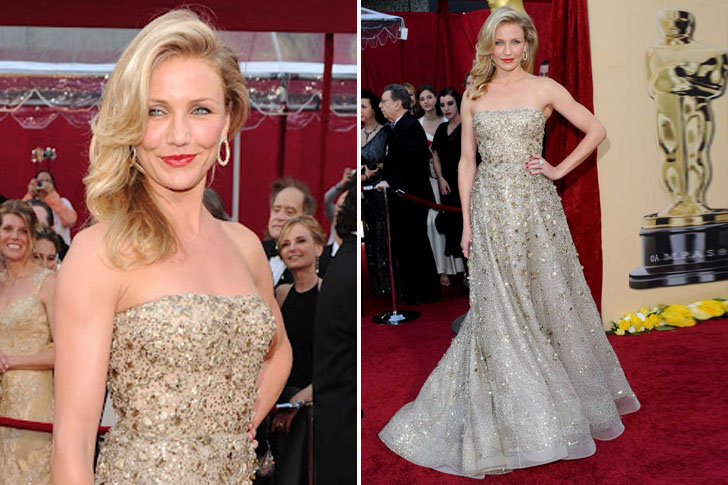 Tall, blonde, and glamorous. Those are just some of the words that can perfectly describe Cameron Diaz. Of course, that glamorous taste also extends to her taste in red carpet fashion.
The actress has always stunned the crowd during red carpet events, and the 2010 Academy Award is no exception. Diaz sparkled down the Oscars red carpet dressed in a bedazzled gown from the Dominican designer Oscar de la Renta. The whole look was pretty simple with some nude make-up and classic red lip. However, her statement Cartier jewels finished the look with the right amount of Hollywood glitz. The now-49-year-old star presented an Oscar for Best Animated Feature later that evening, and she looked stunning next to her co-presenter, Steve Carell. We're not an haute couture expert, but we're pretty sure this Oscar de la Renta piece cost enough to put a dent on an average person's credit card. Fortunately, Diaz has more than enough fortune to afford such an extravagant dress.
2014: Cate Blanchett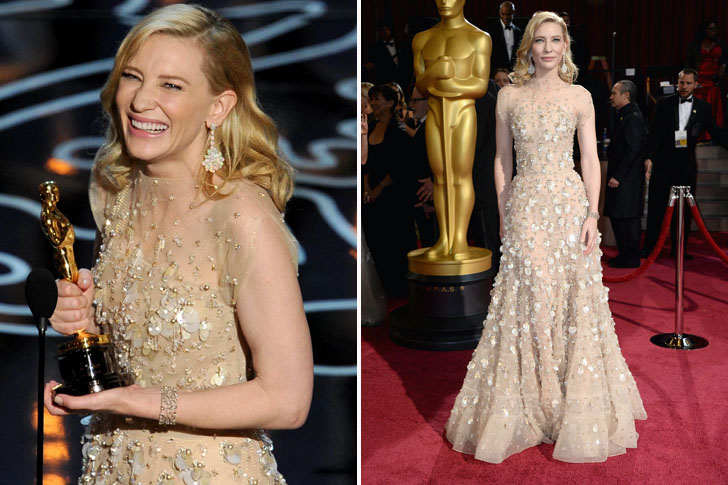 When it comes to walking the Oscars red carpet, Cate Blanchett likes to go big. The actress has sported several expensive looks throughout the years, but nothing can compare to her 2014 ensemble.
The nude bedazzled Armani Prive gown is a legitimate show stopper, so fashion experts took the time to dissect the overall cost of the iconic look. As expected, the whole outfit cost a fortune—$18 million, to be exact! You read that right. Blanchett's 2014 Oscar look cost enough money to buy a mansion at the heart of Beverly Hills. While the dress was worth a whopping $100,000, it was actually the jewels that bumped the price to millions. According to The Hollywood Reporter, the actress wore a Chopard diamond and opal jewelry set, priced around $18 million. Fortunately, Blanchett has the net worth and credit score to afford these types of fashion pieces.
2010: Charlize Theron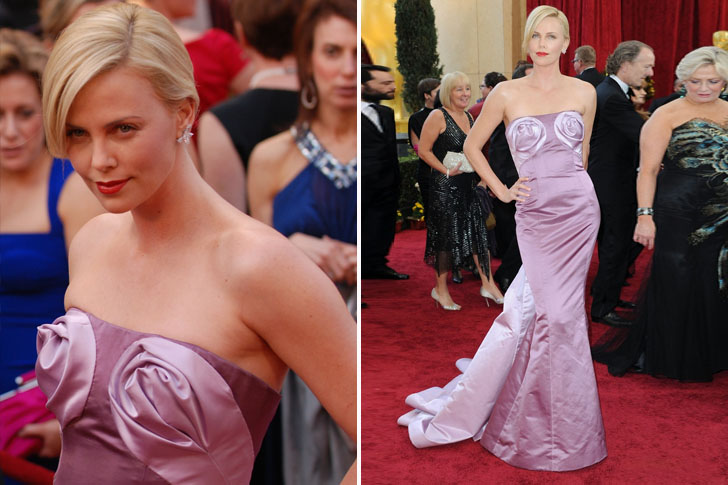 Charlize Theron is a certified stunnerm both on and off the screen. However, when she's walking the Oscars red carpet, she makes sure to bring an extra bit of fashion spice to liven up the atmosphere, and she did that just that in 2010!
As you probably already know, Theron likes a good fashion moment. She certainly did not disappoint when she wore this pink Christian Dior gown to the 82nd Academy Awards. The actress was not up for any awards, but she was clearly a winner in this classic ensemble from the French fashion house. Just when you thought the look couldn't get any better, the actress and her stylist decided to pop some diamond jewelry courtesy of Harry Winston. The look was then finished off with a seductive make-up style and an updo with some side-swept bangs. Theron's then appearance is clearly one for the books, and her style team deserves all the credit!
2010: Demi Moore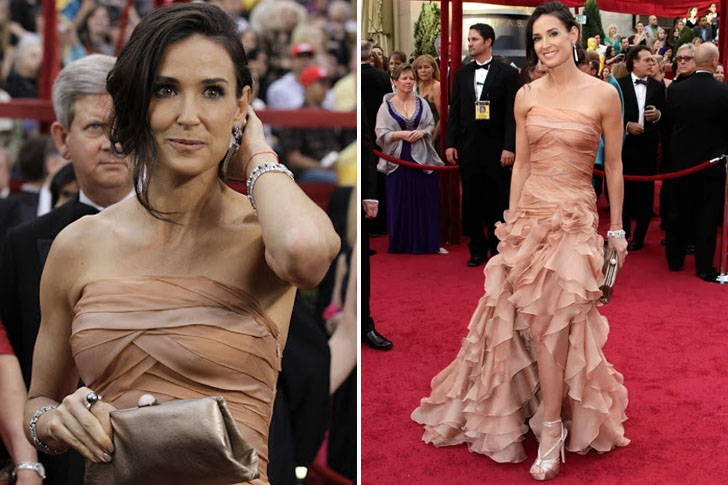 Demi Moore is an icon, and she makes that known with the red carpet outfits she wears. The actress rarely steps into the carpet unprepared. As an A-list celebrity, we're pretty sure she has a long list of designer options, but during the 82nd Academy Awards, the actress and her team decided to go for this peachy nude dress from the one and only Atelier Versace.
The dress alone would've been enough to draw the spotlight on her, but the Ghost star accentuated the look some more with a couple of Van Cleef and Arpels jewelry and a Salvatore Ferragamo clutch. The only thing that would have made everything better is if she received an Academy Award. However, that moment has yet to happen. For now, we'll have to settle for her winner-worthy red carpet looks. Still, whether she's an Oscar winner or not, Moore still has a handsome credit score that could rival some of Hollywood's greatest acting powerhouses.
2021: Halle Berry
You'd think that after 32 years in the business and several Oscars red carpet, Halle Berry would be tired of dressing up for the event. Well, that couldn't be more wrong. Somehow, after three decades in the industry, Berry and her glam team just keep finding reasons to outdo themselves. Their latest addition to their long roster of iconic Oscars looks is this strapless flowy gown from Dolce & Gabbana.
However, while the dress is a certified show-stopper, the actress's new do draws in the most attention. As you may already know, Berry is big on bold hairstyles, and this time she decided to debut a fresh bob cut with baby bangs. It sure is a first for the actress, and we give her credit for being extra daring on the red carpet this year. What's even better is that the actress got to debut her new look on the Oscar stage as one of the presenters of the 93rd Academy Awards.
2011: Helena Bonham Carter
If you're anywhere near familiar with Helena Bonham Carter off-screen, you'd know that the actress loves to make eccentric fashion choices. While her style isn't everyone's cup of tea, there's no denying that she's had plenty of iconic fashion moments on the red carpet. Just take a look at her 2011 outfit that landed her on every fashion magazine's radar.
If you're wondering what look we're talking about, it's this corseted black dress designed by the costume designer Colleen Atwood. Compared to her other red carpet ensembles, this look was, to a certain degree, a somewhat more toned-down choice. When asked about the inspiration behind her style, the actress simply told reporters that it was just a quick thought she and Atwood came up with. It sure is a memorable red carpet moment that will live in Hollywood infamy. The actress is nowhere near done with her acting career, so we can expect more iconic looks from her in the years to come.
2000: Hilary Swank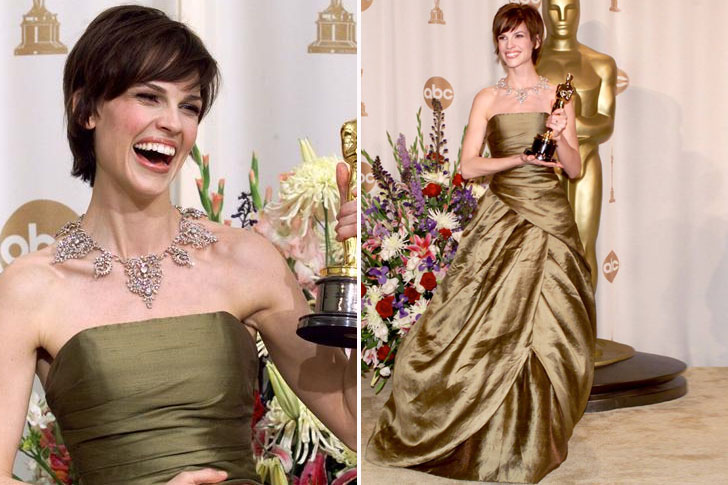 If you're going to attend the Academy Awards knowing that you have a shot at going home with an Oscar for Best Actress, you better dressed up as a winner. Fortunately, Hilary Swank got the memo and walked down the carpet dressed in this bronze-colored ball gown designed by Randolph Duke.
As you probably expected, the actress did take home an Oscar that night, and her first one, for that matter. Swank looked absolutely gorgeous when she was photographed with her trophy backstage at the Oscars press room. The dress might have even given the actress some degree of good luck as her career skyrocketed after taking home that first Oscar. After that, she's also had a couple more iconic moments, including her bare-back Guy Laroche dress that she wore to the 2005 Academy Awards. This lady is definitely a force to be reckoned with, both in film and fashion.
2018: Kate Beckinsale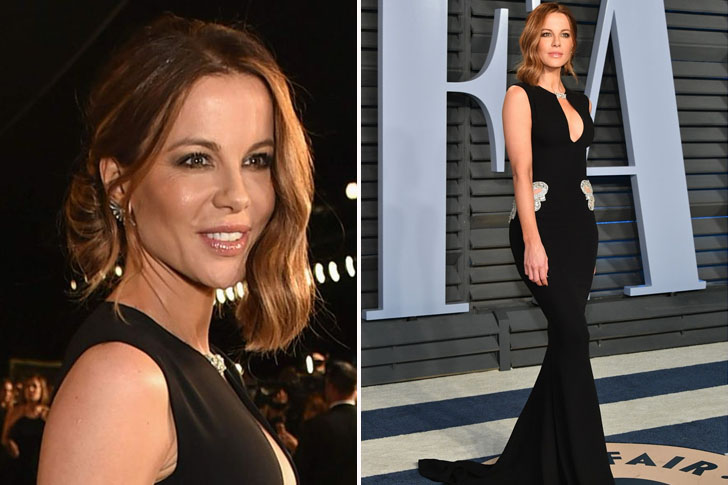 Kate Beckinsale is one gorgeous and talented woman with an impeccable fashion sense to match. The actress rarely ever steps out in mediocre outfits, and you can bet she's not about to do it on the red carpet. Like the many ladies already mentioned on this list, Beckinsale has also had her fair share of memorable red carpet moments. Her 2018 Vanity Fair Oscar's Afterparty ensemble was one of them.
The actress stunned the crowd in this black Reem Acra piece which seamlessly hugged every curve of her body. However, the icing on the cake is the crystal embellishments in the middle of the dress that perfectly accentuates the actress' hips. She finished off the look with some 70s-inspired jewelry from Hueb. The look was pretty simple yet sexy. Looking back at it now, we could completely agree that it was indeed a good investment. We're definitely excited to see more show-stopping moments from Beckinsale herself in the years to come.
2007: Kate Winslet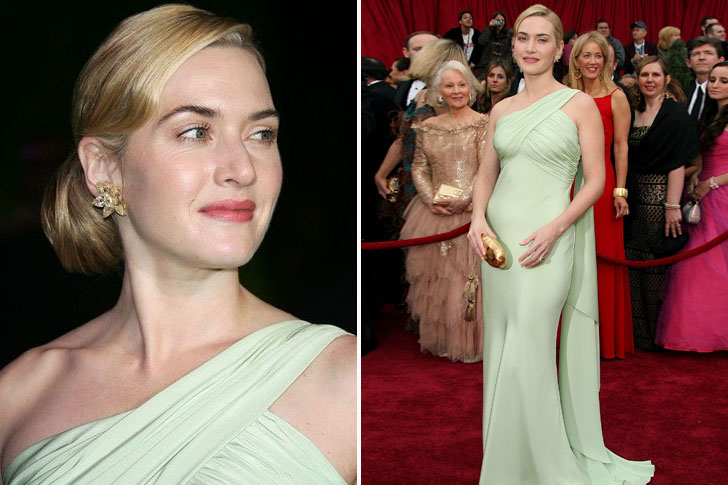 Titanic star Kate Winslet is a living legend. While that title gives her some privileges in the industry, it can also bring a certain degree of pressure, especially during red carpet events. Fortunately, the actress has an incredibly talented team of stylists to help her prepare for and rock the Oscars' red carpet every time!
A moment that fashion enthusiasts will never forget is her 2007 Oscar look from Valentino. Not only did the mint green silk dress land Winslet a spot among that year's best-dressed actresses, but it also landed her a seat among the most expensively dressed celebrities during the Academy Awards. According to Vanity Fair, Winslet's Valentino gown cost a staggering $100,000! That's just the dress. The value of Winslet's outfit is twice higher if we factor in the Chopard pieces of jewelry and the Bulgari clutch bag. If that doesn't make an iconic outfit, I don't know what will.
2012: Kristen Wiig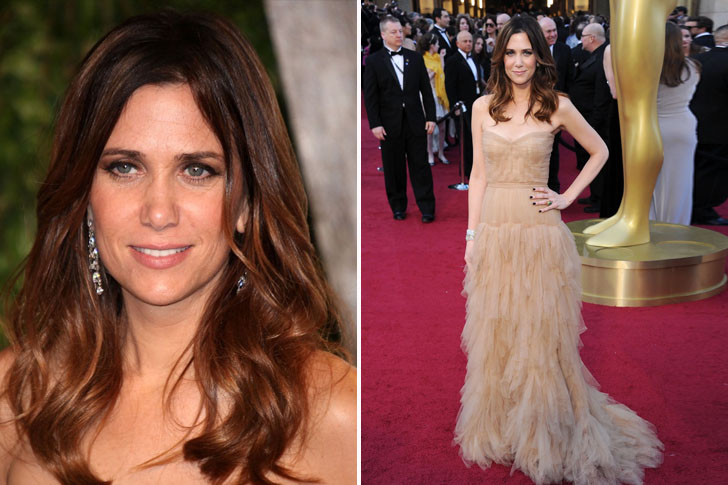 Kristen Wiig may be widely known for her comedic chops, but the actress sure knows how to put on a serious show on the Oscars' red carpet. A perfect example of this is her 2012 look for the 84th Academy Awards held in California.
Wiig decided to go the safe route with the choice of color, but the layered tulle detail gave the dress a needed degree of femininity to make it look timeless. The 48-year-old star was up for a Best Screenplay Award that night, and we could all agree that this J. Mendel dress was the perfect choice for a winning moment. Sadly, the actress did not go home with a statue, but she definitely earned a spot among Hollywood's most iconic Oscar fashion moments. The Bridesmaids actress has since served looks after looks on the red carpet. What we love about it is that it just keeps getting better every year!
2019: Lady Gaga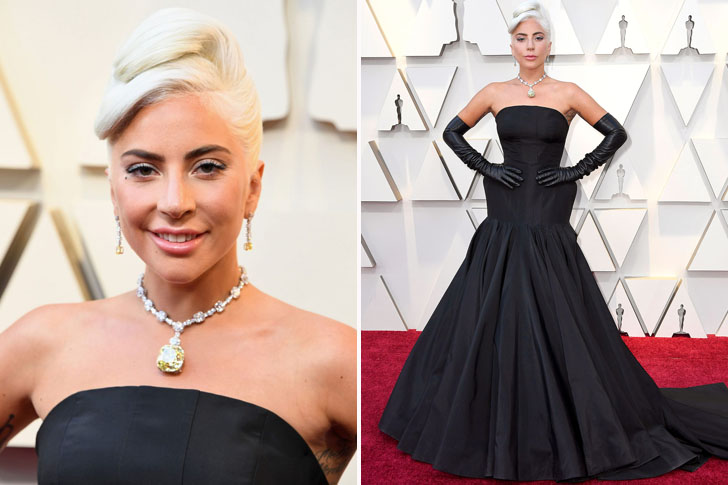 How do you even choose a single fashion moment when we're talking about the one and only Lady Gaga? The singer has pushed fashion boundaries since bursting into the scene in 2008. Does anyone remember the meat dress? Anyway, we're used to seeing Gaga on the Grammy red carpet, but when it comes to the Oscars, there's one moment to trump them all — her 2019 look!
The hitmaker decided to go more traditional during this event with her black Alexander McQueen ball gown. It's significantly less extravagant than her former outfits, but it's the perfect fit to receive an Oscar in. It may have even served as her good luck charm as Gaga gained her first golden statue for Best Original Song. The singer-actress completed the look with minimal make-up, an Audrey Hepburn-inspired updo, and a set of diamond jewelry from Tiffany and Co. The whole look must have cost a fortune, but knowing Gaga's net worth, we're sure she has the credit score to afford it.
2012: Maria Menounos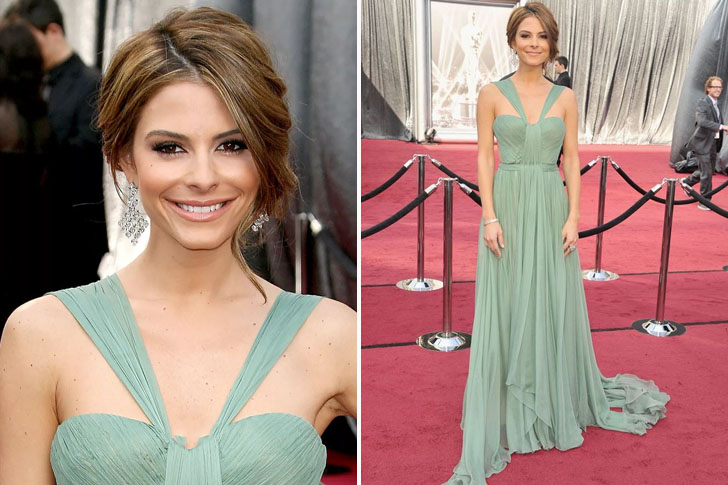 It's probably safe to say that almost every actor in the world dreams of walking the Oscars red carpet at least once in their lives. That dream became a reality for Maria Menounos in 2012, and in true dream-come-true fashion, the entertainment reporter walked the carpet in a dreamy Maria Lucia Hohan piece.
The sage green color of the dress may have been hard to pull off, but Menounos sure made it look effortless. Her dress, coupled with her confidence, takes the credit for making the look even more iconic. The gown has even inspired a slew of lesser-priced replicas that flooded prom dress stores on the internet. Nothing says iconic quite like inspiring affordable knock-offs, am I right? Still, no matter how many people wear a similar dress, no one can beat the original. Hopefully, we'll see more iconic moments from Menounos. We know she has more style in her for us to see.
2019: Melissa McCarthy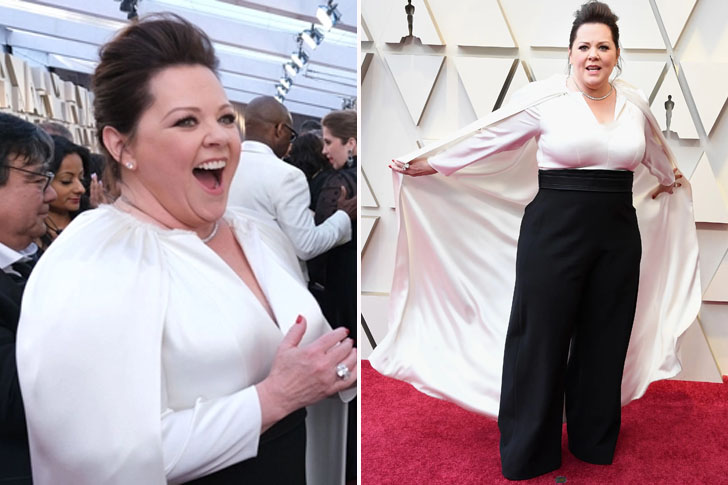 Melissa McCarthy is an endearing comedian who came into our lives as a surprise. After seeing her in Can You Ever Forgive Me?, audiences were happy to realize that she could also act.
If there's ever a moment to wear a silky jumpsuit, it's when you're up for an Oscar for Best Actress. McCarthy even took it to another degree because this wasn't just any jumpsuit; it came with a cape! The actress dazzled on the red carpet in a stylish black-and-white overall. Her outfit was undoubtedly daring. Most women wear gowns on Hollywood's biggest night, so we applaud her for breaking the rules. McCarthy completed her ensemble with a silver necklace and striking rings. Her make-up emphasized her eyes with thick, black lashes, while her cheeks and lips were also softly rose in color. Her hair was a little teased on top, giving McCarthy classic updo a little more drama. This cape moment is everything!
2012: Meryl Streep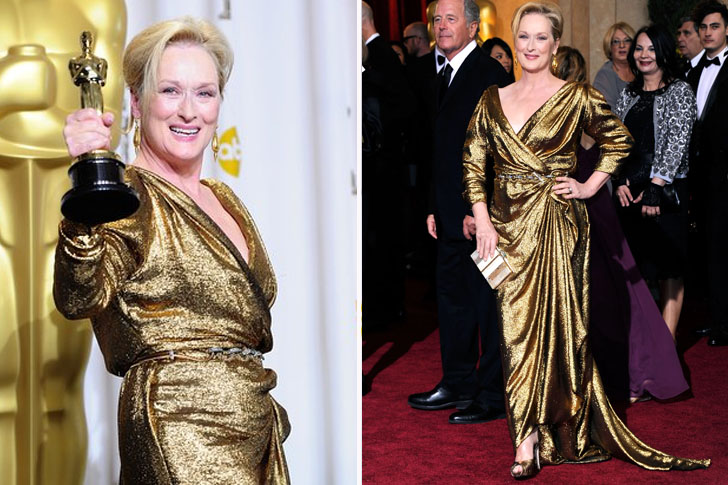 Meryl Streep is the only lady we can adequately label the Queen of the Academy Awards. The Hollywood legend has received 21 Oscar nominations, making her the most nominated actor in Oscar history. As a result, the iconic actress has been a mainstay at the awards presentation and made her imprint on the red carpet.
Streep went for gold once more, which was appropriate given that she won Best Actress for her portrayal in The Iron Lady. The weaved-gold Lanvin featured a strass chain-link belt, paired with a Lanvin mother-of-pearl minaudiere. Her Salvatore Ferragamo gold lizard sandals completed her custom-made flooring-length gown. By the looks of it, gold seems to have brought good fortune to the star! What's the best thing about this gown? It's constructed entirely of eco-certified fabric, making it a stylish win-win. This gown and Streep's 2010 Oscar white ensemble are at the top of our favorite list.
2012: Mila Kunis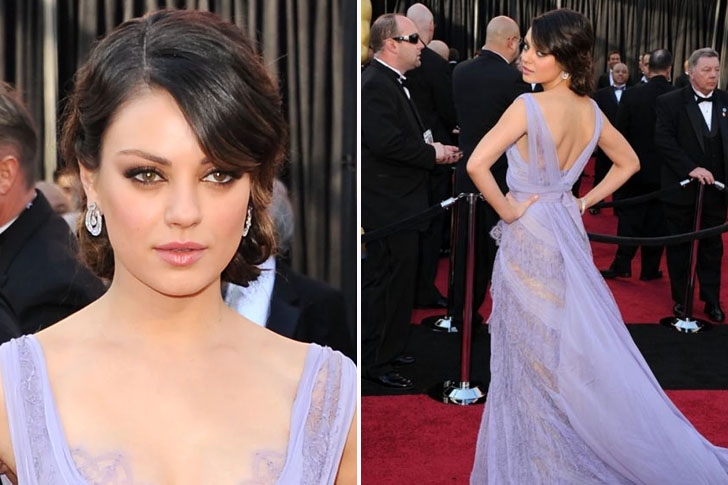 Mila Kunis's off-duty style is one to credit. The actress once said she was a "white T-shirt kind of gal." Even so, the flawlessly petite actress never fails to dazzle when she attends major award presentations or film premieres. Her red carpet outfits, in particular, have us counting her fashionable ways.
The Black Swan star was one of the fashion highlights of the 2012 awards show circuit. She hasn't missed a style beat, from her fiery red Alexander McQueen at the SAG Awards to her emerald green Vera Wang at the Golden Globes. The 83rd Annual Academy Awards presentation was no exception. Kunis looked stunning in a lilac Elie Saab gown that had many onlookers drooling. Surprisingly, the garment was up against some stiff competition in the closet. The actress' relaxed approach on the red carpet is likely because she isn't under much pressure to impress.
2009: Naomi Watts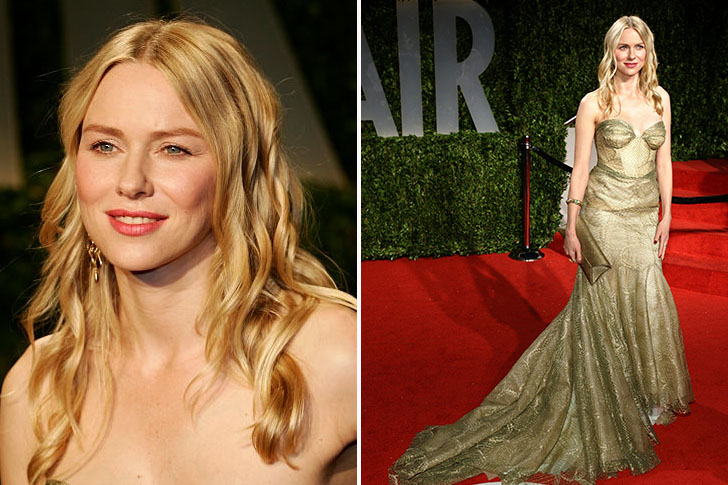 For fashionistas, the Oscars bring an end to an almost flawless red carpet season. The stars shine in gorgeous gowns, from nude metallics and white glitter to strapless tulips and plunging necklines. Whether you thought they were the best or worst dressed, these celebrities took enormous fashion risks on the biggest night of the year. Thank god for that, since the Academy Awards would be a sea of forgettable gowns without them.
Naomi Watts is a regular presence on the red carpet, and her style is usually a hit or miss. However, what we always love about her is that she is always willing to take a risk. At the 2019 Oscars red carpet, Watts wore an exquisite strapless golden gown, and her stylist, Jeanann Williams, could take all the credit. With her lovely blonde hair in loose waves, the glowing actress channeled Hollywood elegance back then.
2009: Natalie Portman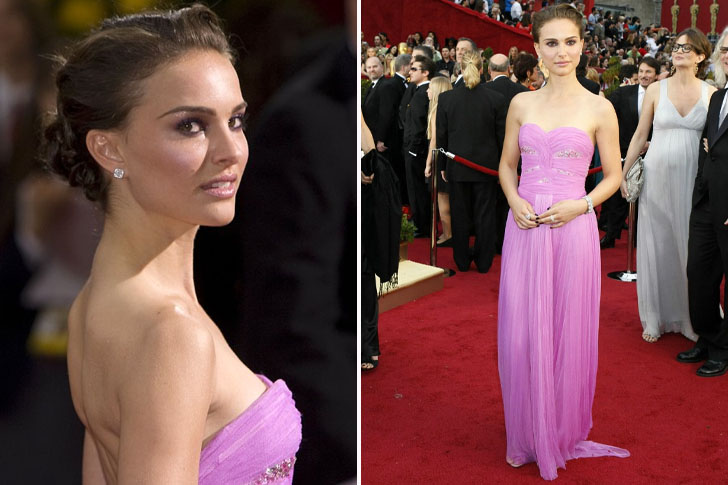 Natalie Portman rose to prominence with her role as Mathilda in the cult film Leon: The Professional. Since then, she's earned an Academy Award for her role in Black Swan and has a long list of acting investments. In addition to that, the actress is a fashion icon, too, and she favors Rodarte and French design firms, Dior and Lanvin. She is also known for her traditional Old Hollywood charm.
No wonder Portman added a womanly spin to the phrase "pretty in pink." This purple Rodarte gown that she wore at the 2009 Academy Awards is one of our favorite red carpet looks. It's feminine, eclectic, and exquisite. Her sexy fairy make-up, a combination of hip and punk rock, complemented her lovely orchid gown. Stella McCartney heels, Kwiat jewelry, and a Vintage Rialto clutch completed the look. There you have it, springtime fairy make-up with orchid and lavender. It wouldn't be shocking if Portman's full Oscar attire inspired new Spring/Summer fashion trends in the said year.
2003: Nicole Kidman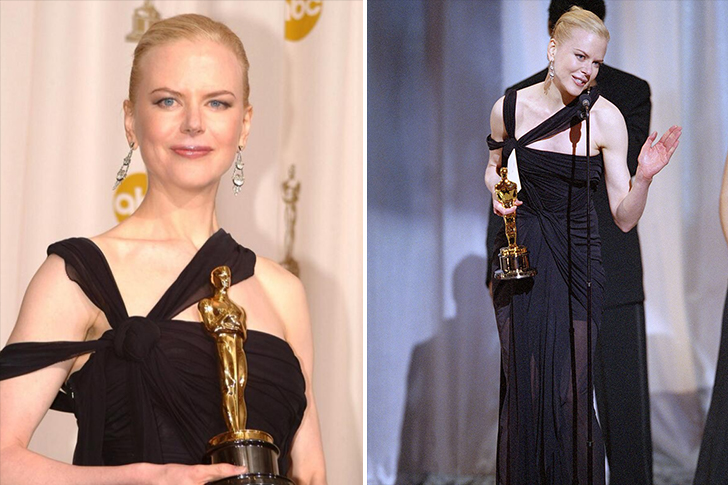 Nicole Kidman is absolutely on the pulse when it comes to fashion, nailing everything from street style to red carpet gowns (and pantsuits!). The actress is no stranger to red carpet outfits that are both ethereal and seductive. As a result, it should come as no surprise that the Australian star usually puts on a show when she attends the yearly most prominent award ceremony—the Oscars. Keith Urban's wife has been attending the Academy Awards for more than two decades, and while she may not choose to wear some of her earlier outfits these days, they're worth revisiting.
Out of all her gowns, this one tops our list. In 2003, she won Best Actress for her portrayal in The Hours. Kidman received the trophy in a Jean Paul Gaultier flooring-length asymmetrical black gown. After the event, Gaultier graciously donated the haute couture garment at an intimate VIP cocktail party.
2007: Penelope Cruz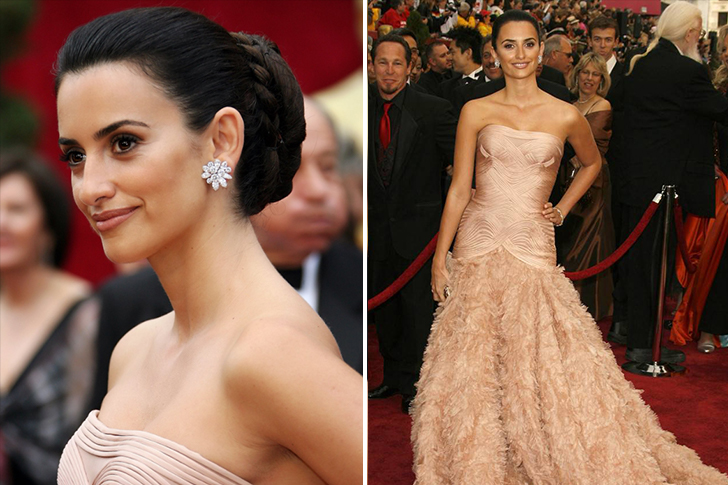 Penelope Cruz is usually stunning, but at the 2007 Academy Awards, she blew everyone away. Her blush Atelier Versace gown epitomized red carpet drama, landing her on practically everyone's best-dressed lists.
Cruz earned a nomination for Best Actress for her portrayal in Volver that year. No wonder she went for high glamour. They used silk chiffon for the bodice, and silk chiffon, organza, and tulle for the skirt. The feathered gown was an instant success. Her Atelier Versace gown in spun gold was everything an Oscars gown should be: glitzy, gorgeous, ageless, and truly dramatic. What sets her dress apart from the rest of the killer Oscar gowns? Penélope's number was distinctive, from the delicately crafted silk chiffon bustier to the feathery organza and tulle skirt that turned heads in her wake. Her designer should receive some credits after the piece became the 15th most fabulous red carpet gown of all time.
2010: Queen Latifah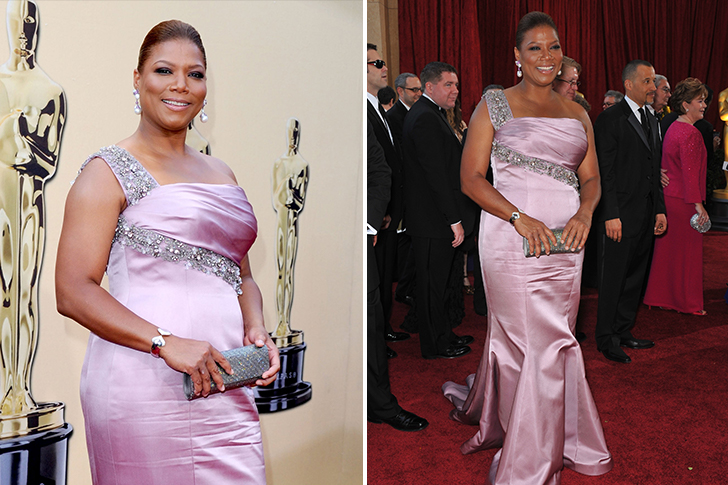 Is there anything Queen Latifah incapable of? The rapper-actress started her career as a beat-boxer for a hip-hop group before striking out on her own with All Hail the Queen. Latifah's wardrobe has evolved in lockstep with her profession, moving from Adidas tracksuits to beautiful evening gowns and tailored ensembles.
When the Equalizer star was chosen as a presenter at the 2010 Oscars, she showed a clip from the Governor's Award presentation. It was recognized as great investments, contributions to the Motion Picture Arts and Sciences, and service to the Academy. At the time, she donned a purple one-shoulder dress that perfectly accentuated her body, and her Chopard jewels made her shine like genuine celebrity royalty. The lilac satin was stunning, and the jeweled strap and bodice band provided just the right amount of sparkle. Latifah completed her stunning ensemble with drop pearl earrings and a silver clutch. Is there anyone who knows how to flaunt her curves like Queen Latifah?
2010: Rachel McAdams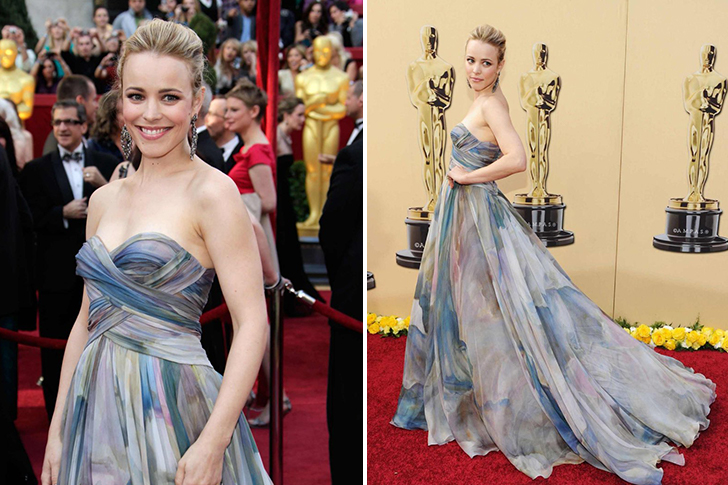 Rachel McAdams has been on the red carpet non-stop for the past few years, and her appearance at the 2010 Academy Awards continued her fashion-winning streak. She wore a stunning, strapless Elie Saab gown with a delicate, pastel design back then.
The sweetheart neckline of this gown accentuated McAdams' exquisite shape, and the light colors complemented her delicate skin tone. Despite its dreamy aspect, the dress managed to make quite the startling statement on the red carpet. The flooring-length gown featured an ultra-floaty design and a pastel print that appeared like watercolor. The actress completed her ensemble with an elegant updo and a necklace-free look, allowing the dress' neckline to take center stage. The Notebook star chose to wear a minimum of accessories with only a pair of chandelier earrings to compliment her outfit. To put it simply, it's a dress for the ages, and it's a stunning red carpet appearance that McAdams will be known for.
2011: Reese Witherspoon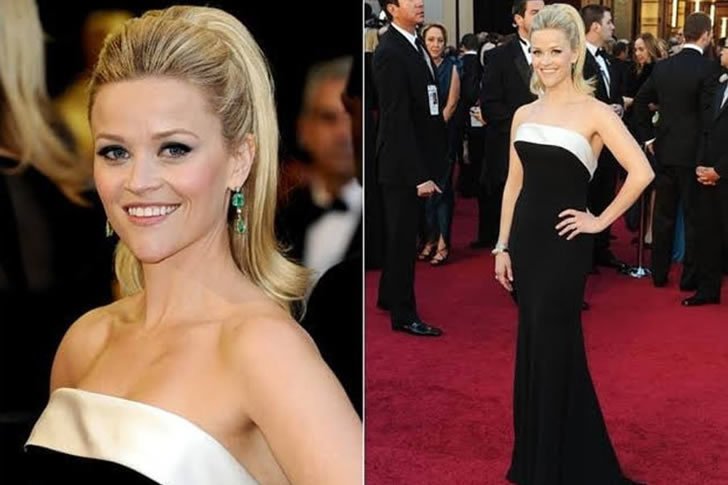 Reese Witherspoon's style is far from boring, and she doesn't need a fashion degree to prove that. The actress' defining look is all about lovely fabrics in brilliant hues with unique necklines and cut-outs. Not to mention that she's mastered the hand-on-hip position.
The 83rd Academy Awards red carpet attracted all eyes in the hopes of catching Witherspoon's Oscar gown. What was the rave all about? It was the now-45-year-old star's black and white Armani Prive gown, a stunning piece deserving of an impressive A+ grade. The strapless dress featured a slight train and a white silk band at the neckline. Many had pointed out that Witherspoon's Armani Prive gown was similar to the Valentino Julia Roberts wore in 2001 when she accepted her Oscar for Erin Brockovich. We prefer to believe the actress was channeling a different legend: Vintage Barbie. Something about Witherspoon's swooping high hair and form-fitting outfit made us want to stuff her in a doll box.
2020: Renee Zellweger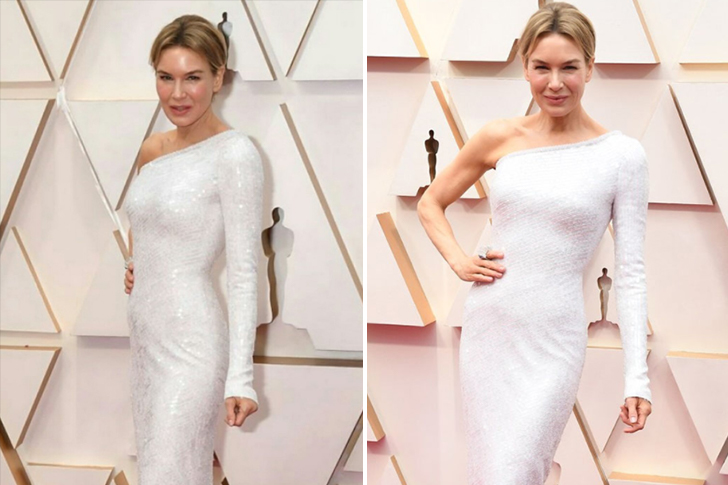 Renée Zellweger earned nominations for just about every "Best Actress" award. However, those of us with a sartorial pulse have been keeping an eye on her for entirely different reasons.
The 2020 awards season had formally been the actress' best sartorial season to date. By the looks of it, it seemed like Zellweger was saving the best for last. She scored a Best Actress nomination for her performance as Judy Garland in the film Judy, so she decided to make a statement by attending the event in a custom Armani Privé gown. It was every inch the dream dress, from the fit across her body to the modern one-shoulder long-sleeve. It featured a pristine white tone, appealing diagonal sequin embroidery, and a more obvious detailing at the trim. Sole-shoulders and sequins became prominent in the wedding dress market after, and we could credit Zellweger for that.
2010: Sandra Bullock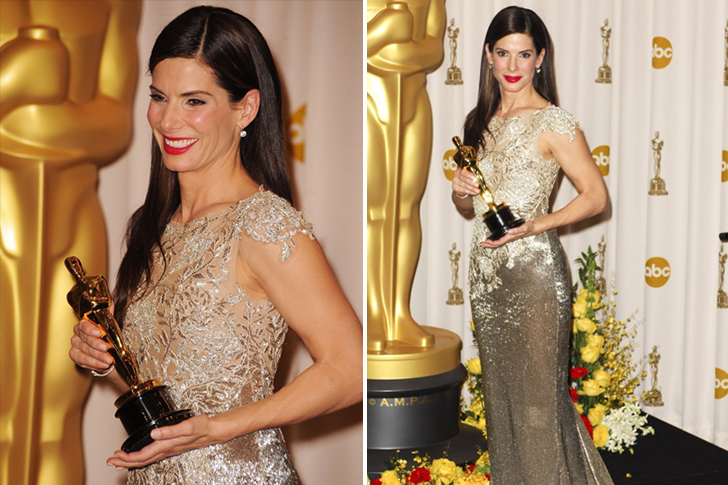 Sandra Bullock made her cinematic debut 30 years ago in the 1987 thriller Hangmen. She went on to win numerous accolades and gained career investments during the next few decades. With so many laurels, the actress has become a regular on the awards circuit's red carpet, where she changes things up from year to year.
Bullock wore a glittering champagne-hued Marchesa gown to accept her Best Actress award in 2010. She completed her ensemble with minimal jewelry, straight and simple hair, a metallic clutch purse, and vivid fuschia lipstick. According to Bullock, the dress's beading was vintage and that wearing it was a "once in a lifetime opportunity." Perhaps the actress attempted to convey a subliminal message to the Academy with her gold-beaded costume that resembled an Oscar statue. It must have worked since Bullock not only looked stunning (and five years younger), but she also took home a huge honor.
2012: Sandra Bullock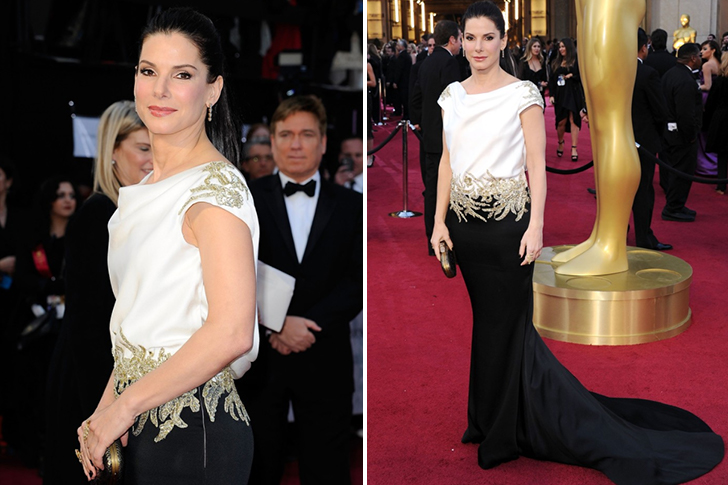 Sure, the Oscars are to recognize the best achievements in the film industry, but every fashionista knows it's all about the gowns. Who can forget Gwyneth Paltrow's pink dress or Halle Berry's opulent Elie Saab gown? Yet, Sandra Bullock dominated the show in a Marchesa gown at the 84th Academy Awards.
The actress' Extremely Loud and Incredibly Close is up for two trophies. Bullock wore a Marchesa gown, which was indeed unsurprising. After receiving an Academy Award for Best Actress two years ago, she once again wore a gold dress by the same designer. This time though, Bullock chose an edgier look for 2012's red carpet, wearing a black and white color-blocked gown. Her flooring-length silk crepe gown had gold embroidered embellishment around the waist. Though it lacked the trademark Marchesa girliness and sparkle, it had an elegant flowing back. Bullock finished her look with a sleek, dark ponytail.
2012: Viola Davis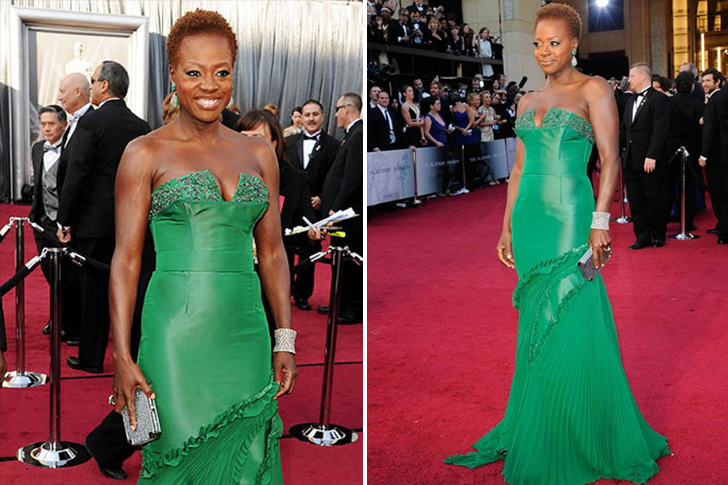 Viola Davis has stayed steady in her approach to fashion since her early days on the red carpet. She knows which cuts flatter and highlights her body type. She also likes vibrant hues (but isn't afraid of an LBD or brilliant whites) and draws influence from old Hollywood glamor.
Davis dared to make a statement at the 2012 Oscars by skipping her wig in favor of her natural hair. The actress brought a splash of color in her long and flowing Vera Wang mermaid gown. It featured a flowery crystal appliqué bustline, cascading ruffles, and a pleated accordion skirt. What's the best way to take this traditional A-line gown to another degree? Lorraine Schwartz's green sapphire drop earrings, imprisoned in a web of diamonds, helped her make the most of the occasion. Davis' decision to wear her natural hair is our favorite component of the entire outfit.
2010: Zoe Saldana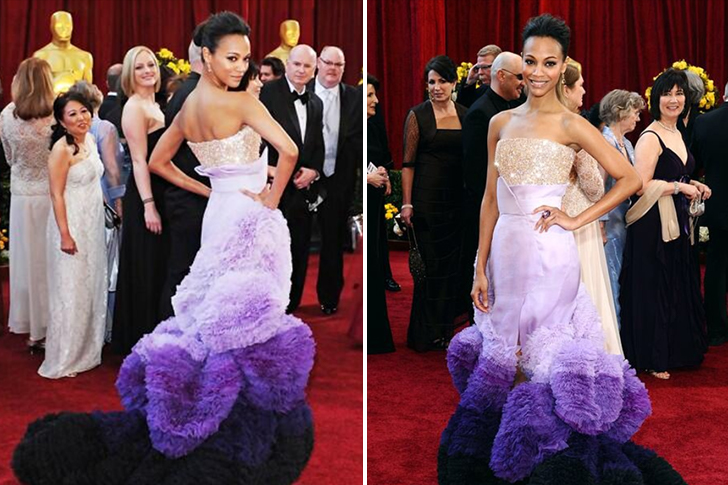 Zoe Saldana resembled a modern princess in a multicolored Givenchy couture dress at the 2010 Oscars. It is one of the dresses that most fashion enthusiasts are hoping to see. It takes a specific kind of woman to wear something like this, and no one could have done it better than Zoe.
While most celebrities walked the red carpet in black and white gowns, the Avatar actress opted for something a little more quirky. Riccardo Tisci's spring 2010 Paris runway presentation was in January, and she wore the frothy gown directly off the stage. It had a dazzling bodice and layers of ombre ruffles that touched the flooring. Look at that smile — she was having a great time posing for the cameras! Saldana completed her head-turning outfit with matching diamonds and a modest up do. That is one stunning woman in an equally gorgeous gown. In any case, Saldana's smile is enough to carry the world, let alone this beautiful Givenchy gown!
2012: Penelope Cruz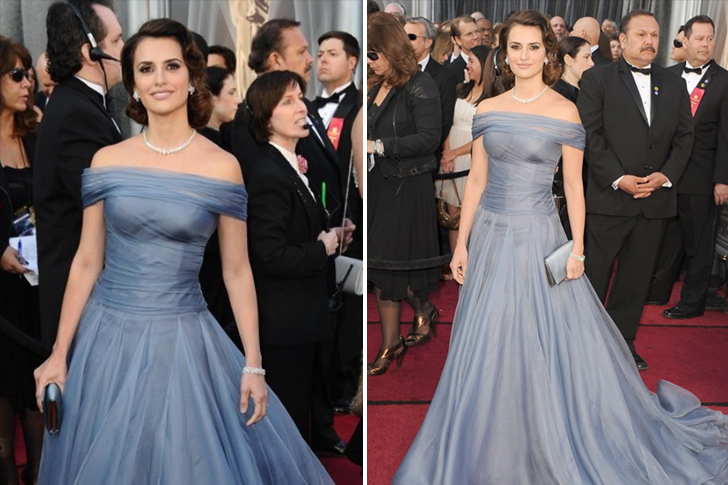 Spanish-born actress Penélope Cruz became a household name for her performances in movies directed by Pedro Almodovar, including All About My Mother and Broken Embraces. She is Spain's first actress to garner an Oscar award for her acting credit in 2008's Vicky Cristina Barcelona. Since then, she has starred in noteworthy American films, including Vanilla Sky and Nine. The actress also received a star on the Hollywood Walk of Fame and an Honorary César Award.
In 2012, Cruz hit the red carpet at the Oscars in LA. She decked out in a silver-gray dress made by Armani Privé. She was on the long list of the awards show's presenters, including Gwyneth Paltrow, Tom Cruise, Sandra Bullock, and the ladies of Bridesmaids. What do you think of her look? If you ask us, we believe she looked ravishing in that off-the-shoulder dress and retro hairstyle!
2003: Jennifer Lopez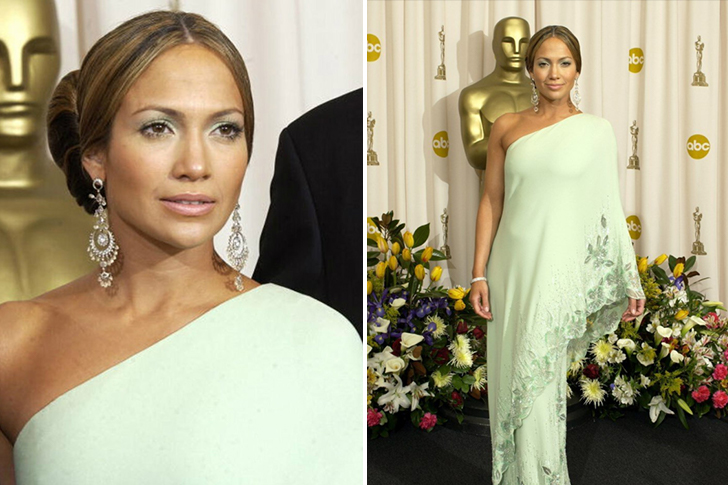 Jennifer Lopez is one of Hollywood's most famous actresses and performers, whose career has spanned over 25 years. Her breakout role came in the mid-'90s when she portrayed the titular character in the biopic, Selena. From there, she achieved new heights both in the movie and music industries to the degree that she became one of today's biggest A-list celebrities.
In 2003, Lopez graced the 2003 Oscars red carpet with her then-fiancé and now-new-flame Ben Affleck, wearing a mint green gown designed by Valentino. According to reports, Jackie Kennedy's 1960s dress inspired this ensemble. The vintage feel of the design creates a timelessness to the look, with its layered and richly embroidered skirt and one-shoulder silhouette. The triple threat superstar completed her outfit with Harry Winston jewels, silver sandals, a white clutch, matching mint eyeshadow, and a sleek bun hairstyle.
2003: Kate Hudson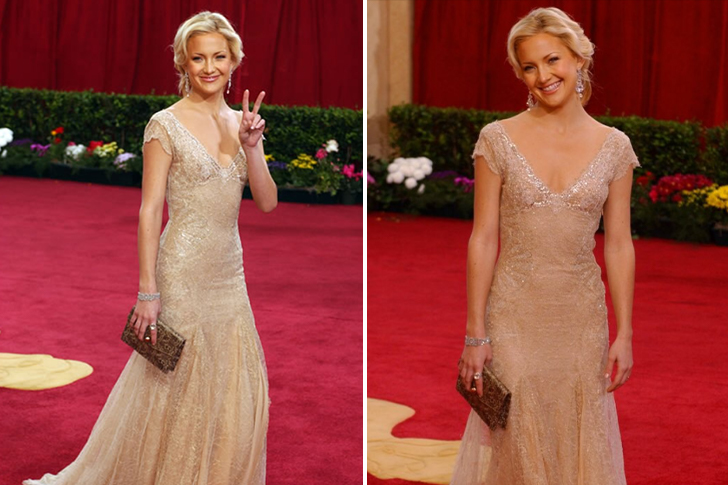 Kate Hudson is an actress and producer who rose to prominence, thanks to the 2001 movie Almost Famous. This role not only made her a household name, but it also fetched her a Golden Globe award and several other major nominations, including an Oscar nomination for Best Supporting Actress. Outside acting, Hudson went on to earn a fortune for her investments as a co-founder of the subscription fashion company Fabletics.
As for her red carpet looks, the actress's 2003 Oscar ensemble was the real thing — it was made with 14-carat gold! Donatella Versace had to hand-sew the embroidery onto the stunning gown, which had cap sleeves and a small train. The champagne-colored lace dress, which was completely backless and fitted with a train, complimented Hudson perfectly. Even Versace expressed admiration for her by saying, "The dress belonged only to her."
2010: Sarah Jessica Parker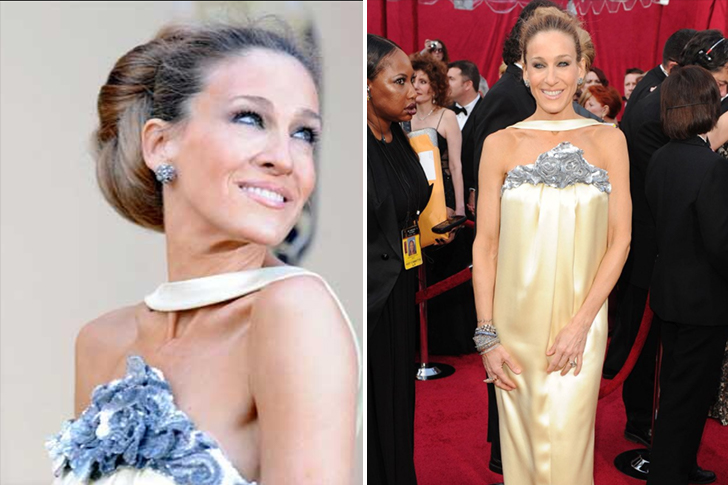 Sarah Jessica Parker is an actress who is probably best known for her leading role as Carrie Bradshaw in SATC. She received acting credits in 94 episodes of the HBO show across six seasons and an additional two feature film adaptations. The role earned her three Screen Actors Guild Awards, four Golden Globe Awards, and two Emmy Awards.
In the 2010 Oscars, Parker dazzled in a glamorous Chanel Couture gown. With her slim, athletic frame, she could make any dress look fashionable, and it's hard to imagine this soft yellow dress on anyone but her. The gown, accented with a pyramid of rosette beading at the neckline, is one of the 2010 Oscar's most interesting pieces to cross the red carpet. A refreshing break from the SATC dresses she wore, this silky Chanel dress is something only she could pull off.
2013: Jennifer Aniston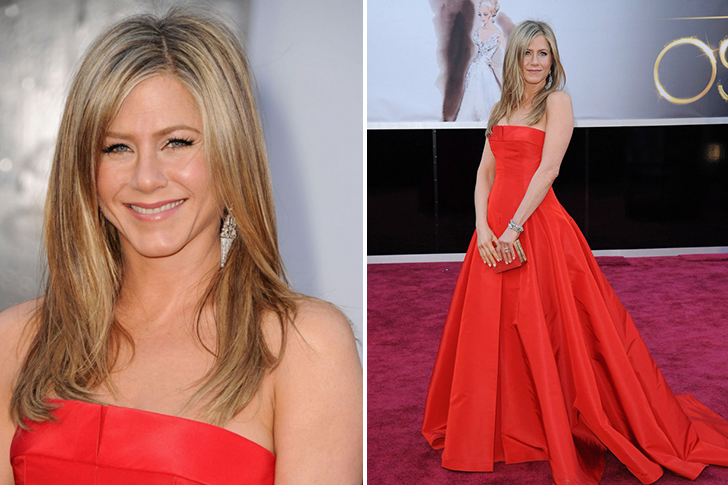 Jennifer Aniston may have stepped into prominence through her role as Rachel Green in Friends, but she has also managed to carve out a respectable movie career in the past two decades. At this point, it probably goes without saying that Aniston is one of the highly sought-after actresses in Tinseltown. She consistently earns more than $20 million every year from her acting endeavors, investments, and endorsements.
When it comes to red carpet appearances, Aniston is pretty much selective about which awards events she'll grace with her presence. Still, she decided that the 2013 Oscars was worthy of a striking red carpet moment, opting to wear a red Valentino gown with a ball-gown skirt. Aniston paired her dramatic gown with her loose and straight basic everyday hairstyle and little jewelry to complement her solid-colored dress. Plus, she didn't even look like she was in her 40s!
2019: Julia Roberts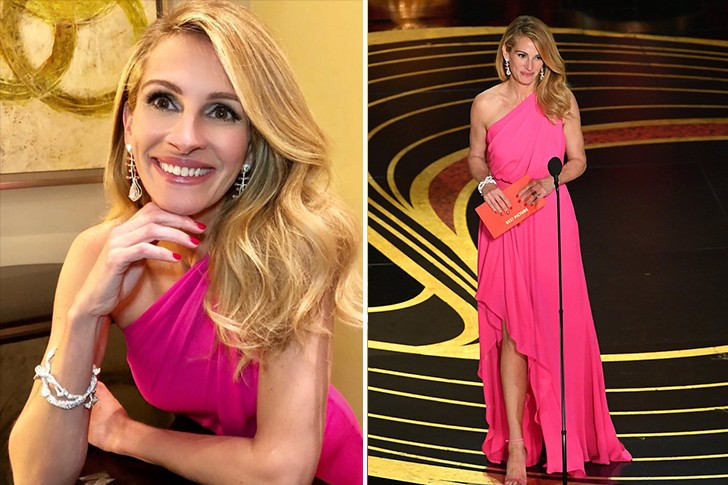 Highly-acclaimed actress Julia Roberts is best known for her roles in Notting Hill and Pretty Woman, which established her as one of Hollywood's bankable leading stars. The iconic 1990s movie reached the highest number of ticket sales in the US for a romantic comedy film, earning an estimated $463.4 million worldwide. It was said that she received a fee of $300,000 for her acting credit.
Talk about Pretty Woman, Roberts was indeed a pretty woman in pink at the 2019 Oscars. The actress showed up at the end of the ceremony as a surprise presenter for the best picture award, and she definitely looked gorgeous wearing a one-shoulder, draped magenta dress made by the fashion house Elie Saab. Roberts paired the asymmetrical number with Cindy Chao jewelry and bright pink strappy sandals, making her a sure head-turner. Roberts managed to look elegant and fiery at the same time!
2013: Catherine Zeta-Jones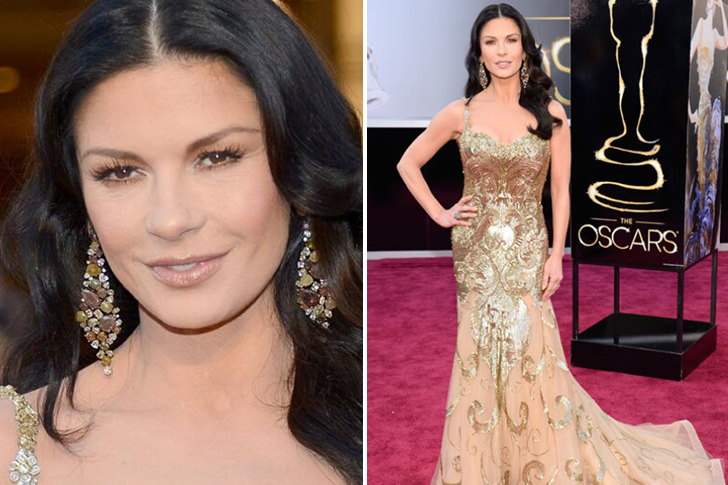 Catherine Zeta-Jones, one of Hollywood's famous actresses, has come a long way. She started out acting on stage and on-screen in the UK and moved to Hollywood more than 20 years ago after winning the starring role in The Mask of Zorro. Since then, the Welsh starlet has never looked back. Her undeniable beauty and distinct acting style made her a movie fixture during the 1990s. That being said, Zeta-Jones has proved that she's more than just a pretty face. She has had a number of excellent acting credits throughout her career.
In 2013, the actress attended the Oscars, and even though she wasn't nominated for an award, it didn't mean she wasn't going to be a stunner. Zeta-Jones opted for a gold-embroidered silk chiffon dress made by Zuhair Murad, and it fit her in all the right places. She even let the world know that she's still a charmer, even at 44!
2018: Emily Blunt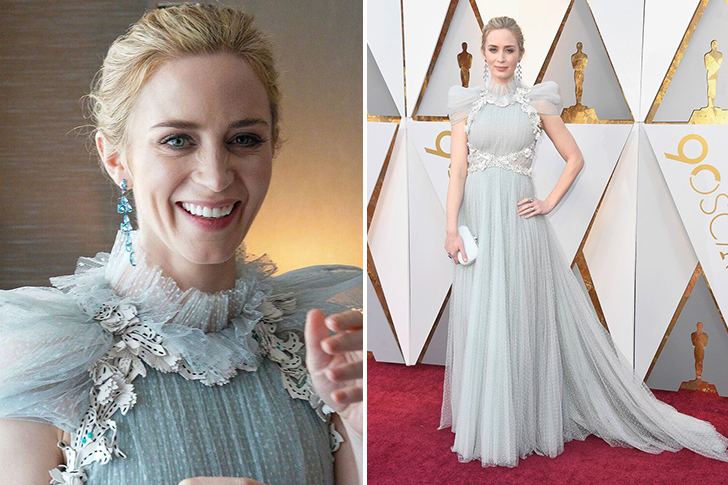 Emily Blunt is best known for her eccentric roles in films such as The Devil Wears Prada, The Girl on the Train, and Edge of Tomorrow. Her love for the craft was fueled by her role as Juliet when she was 19 years old in a local theatre production of Romeo and Juliet. Her debut as a professional performer came a few years later, receiving credits for the theatrical drama The Royal Family. After subsequent appearances, Blunt made a breakthrough for her appearance in the British film Boudica. She also played Catherine Howard in the TV film Henry VIII.
In 2018, she arrived at the Oscar Awards channeling her inner Mary Poppins on the red carpet for the premiere of Mary Poppins Returns. Blunt starred as the lead character in the aforementioned film and stepped foot on the red carpet in a stunning white gown.
2009: Anne Hathaway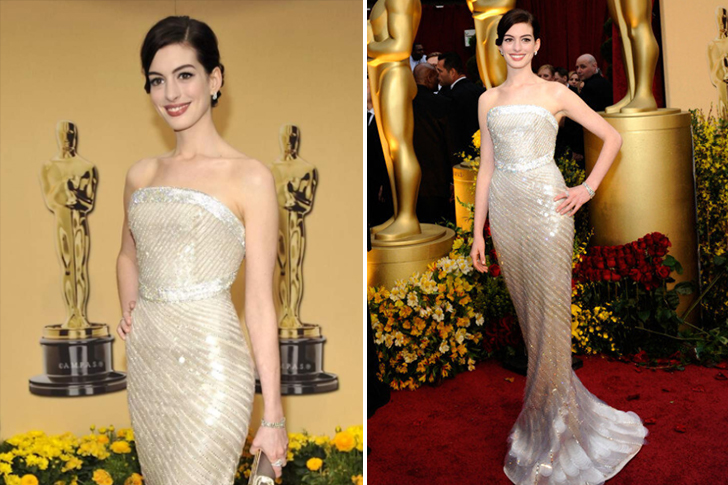 Anne Hathaway is one of today's highest-paid actresses in the entertainment scene, and her movies have grossed almost $7 billion globally. While she has a knack for choosing incredible films to star in, she is acclaimed for doing so, even earning praises from her critics for her wise investment planning. Hathaway began her career as a theater actress and slowly made her transition to films.
In 2009, she walked the Oscars red carpet in Los Angeles wearing a silver Armani Prive gown. She matched her gorgeous dress with Casadei 1616 pumps in a silver tone. At the time, Hathaway was nominated for Best Actress for her performance in Rachel Getting Married. She also performed with host Hugh Jackman at the show's opening number. Performers for the night also included Zac Efron & Vanessa Hudgens, Beyoncé, and Amanda Seyfried & Dominic Cooper.
You've Reached The End